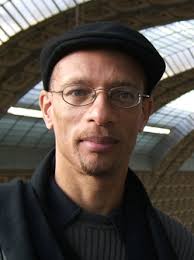 Guyanese author Fred D'Aguiar, whose previous work on Jonestown was Bill of Rights, a book-length poem published in 1998, published the novel Children of Paradise in 2014. An interview with the author, conducted by David Henry Sterry of The Huffington Post, appears here.
The book has been reviewed in numerous publications since the beginning of the year. The two reviews written by contributors to site are:
Poetic Faith, by Annie Dawid

Children of Paradise: A Review, by Matt Fulmer
Other reviews of the book include:
"A retelling of the Jonestown massacre tragedy examines the warped tactics of repression", by Amy Driscoll, The Miami Herald, February 7, 2014. (Reprinted February 16, 2014 as Retelling of Jonestown massacre examines leader's warped tactics in The Bend Bulletin.)

Professor frames historic massacre in fiction, by Abbey Williams, Colleagiate Times Blacksburg, VA, February 10, 2014

Jonestown massacre is template to attain liberation from tragedy, by Michael D. Langan, The Buffalo News, February 16, 2014

'Children of Paradise' reimagines the Jonestown massacre, by Amy Driscoll, Contra Costa Times, February 19, 2014

Book Review: 'Children of Paradise', by Lawrence Wayne Markert, The Roanoke (VA) Times, March 3, 2014

Devil's Deeds, by Julia Scheeres, The New York Times, March 7, 2014 (This review also appears here.)

Madness and massacre in the jungle, by Simon Baker, The Spectator, London, UK, March 15, 2014

Children of Paradise by Fred D'Aguiar review – the full horror of the Jonestown commune, by Jane Housham, The Guardian, London, UK, May 1, 2015
Originally posted on October 10th, 2014.
Last modified on December 26th, 2022.