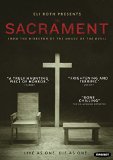 The horror film, The Sacrament, which tells the story of a journalist who investigates a seemingly-benign but mysterious cult – and which then recreates the story of Jonestown, even if it never mentions the site of the 1978 tragedy by name – was released in early 2014 to mixed reviews.
The book has been reviewed in numerous publications since the beginning of the year. The two reviews written by contributors to site are:
Online reviews of The Sacrament included:
Interviews with Sacrament crew and cast members included:
Previews of the film included:
Originally posted on October 11th, 2014.
Last modified on May 19th, 2020.