The Peoples Temple movement of the 1960s and 1970s and the Jonestown tragedy which ended it have informed and influenced artists working across a range of media to interpret the event. These works of art must be preserved, and San Diego State University (SDSU) is embarking on just such a preservation project: a sustained campaign by the Special Collections Department of the SDSU Library to become the national repository for artistic interpretations of Jonestown. This article presents some of the "Art of Peoples Temple and Jonestown" that SDSU, in collaboration with the Jonestown Institute, has acquired in order to preserve it and provide greater access to it for a broader audience.
In November 2012, Special Collections acquired the Jonestown Carpet, donated by Laura Baird, the artist who created it. Her generosity also served to inspire this art preservation project. Jonestown Carpet is an interpretation of the famous aerial photograph taken by David Hume Kennerly for Time magazine of the bodies of the mass-suicide victims around the Jonestown pavilion grounds.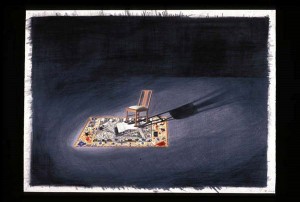 According to Baird, "It took ten years to create the tapestry rug that is the central feature in this work, though Jonestown Carpet is not and will never be a finished work. To attest to this incompleteness, a minor area of the carpet canvas was left without needlework; essentially, a blank space."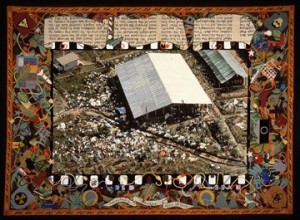 Jonestown Carpet is an example of the kinds of artistic works that "use Jonestown as the point of departure for explorations that extend beyond the events themselves," according to Rebecca Moore, professor of religious studies at San Diego State University. When Baird began the work in 1981, the aerial photograph as a subject "seemed to transcend itself and became something else." The Jonestown Carpet is not really about Jonestown. Instead, as Moore says, it is about "the representation of Jonestown; and now (Baird's) representation adds another level of interpretation."
Three works of art by Jonestown artist Nancy Virginia Sines have been gifted to Special Collections by way of Nancy's mother Barbara and her cousin, Susan Ashby. Nancy did most of the artwork done in Jonestown: the famous signs, the water tower, and the nursery. She also gave arts and crafts lessons. Nancy completed India Ink and Water Color (below) in 1974 when she and her brother Ron were with Peoples Temple in San Francisco. According to an account given by Barbara Sines in 2001, "Nancy drew this picture on poster board with India Ink. When Nancy went back to put on the water color, the board soaked in the color so it was necessary for her to use ink eradicator on cotton and q-tips as she added the color to obtain the value of the colors she wanted. She spent about a year completing this picture."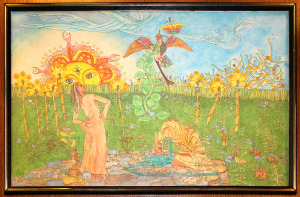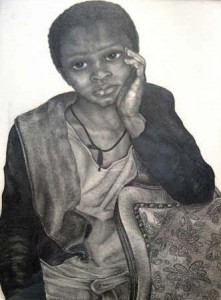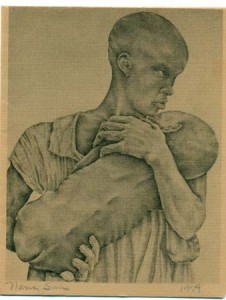 Steeped in the flower-child culture of the late 1960s and early 1970s, Nancy and Ron were drawn to Peoples Temple because of its dedication to the Civil Rights Movement. The two works here – Harlem Woman (left) and Biafra Woman with Child (right) – attest to Nancy's dedication and sympathies.
Ronald Sines ran the Jonestown saw mill and carpentry workshop. The car carved from wood shown below was found near the workshop used by Ron. According to Barbara Sines, it likely was a model used to teach students basic woodworking. It was found after the Jonestown disaster and returned to Barbara via diplomatic channels. It too has been gifted to Special Collections.
A selection of four works from an important series of paintings by the artist Teresa Gordon has been loaned to Special Collections for an upcoming exhibit to be unveiled on November 18, 2014. The exhibit will focus solely on documenting Peoples Temple at Jonestown, Guyana. In addition to the four paintings, the works of art described above will be included in this exhibit alongside an assortment of other materials pertaining to the Peoples Temple Agricultural Project. According to Teresa Gordon's "artist statement,"
I have completed a series of paintings dedicated to the 918 people who lost their lives in Jonestown, the survivors who had to pick up the pieces of their own lives and go on, and to the families and friends who lived through it all with them. The sign said "Welcome to Jonestown Peoples Temple Agricultural Project." For these paintings, I chose to focus on the "Agricultural Project" aspect of that sign, and on what a group of people built instead of what some of them eventually destroyed. I wanted to paint the life of the place instead of its death. The name "Jonestown" has so many negative and complex connotations that I wanted it to recess into the background in these works. As a result, the series focuses primarily on the structures and natural beauty of Jonestown, depicting its cottages, buildings, fields and gardens, playground and surrounding jungle which I feel represent the vision and hard work of the people who went to Guyana with a dream and a desire for something more.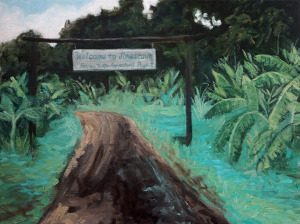 "Welcome To Jonestown"
Oil on canvas – 12" x 16"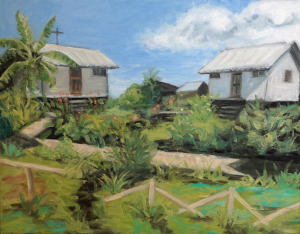 "Two Cottages with Fence"
Oil on canvas – 14" x 18"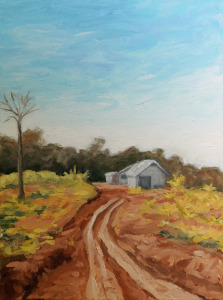 "Cottage with Drive"
Oil on canvas – 16" x 12"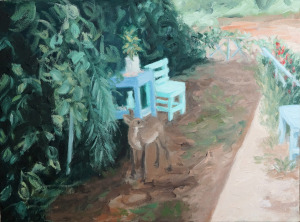 "Garden"
Oil on canvas – 12" x 16"
Another work from the "Art of Peoples Temple and Jonestown" collection at San Diego State is one by Ann Elizabeth (Annie) Moore, apparently the last person to die in Jonestown. In her suicide note praising Jonestown, Annie wrote "What a beautiful place this was." Annie painted the picture sometime between 1977 and 1978 in Jonestown. Annie's sister Rebecca and her husband Fielding McGehee found the painting on a wall in Jim Jones' cabin when they visited Jonestown in May 1979.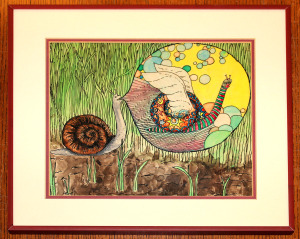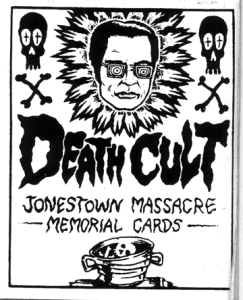 Peoples Temple and the tragedy at Jonestown have evoked some peculiar artistic expressions since 1978, and Special Collections holds two examples of such oddities.
The first is Death Cult : Jonestown Massacre Memorial Cards – a series of 39 cards (two with the number 13) : chiefly illustrations ; 64 x 82 mm in a box 93 x 66 mm + 1 booklet.
The cards depict Peoples Temple and the Jonestown mass suicide in comic-book style illustrations. When laid out together, the verso side of the cards consists of a puzzle of an illustration in purple and white. Each card is illustrated by a different artist. The cards were published by Carnage Press, and 2000 sets were produced in November 1988. San Diego State University's copy is number 1528.
Another unusual work is We Had a Few Sprinkles Today, but not Enough to Help Out in the Garden (2009) by sound artist and composer Vertonen (aka Blake Edwards), who explores audio interpretations of extremes in the human experience. The composition consists of 2 audio discs, a booklet of supplemental texts, and 2 laminated/illustrated cards related to the Peoples Temple Agricultural Project. We Had a Few Sprinkles Today is "the fruit of a two-year process of extracting and modifying material originally recorded in 1978. All resulting audio was solely generated from this source material. The concept behind this CD stemmed from my interest in reassessing the idea of "brainwashing" and how misperceptions that are easier to accept can easily and dangerously corrode–and, worse, override–the realities of the original event." Edwards' aim is to permutate audio components related to Jonestown in order to "show a side of Jonestown most people may not associate with it. I wanted to offer a perspective that more closely reflected the original aims of the people who followed Jones to Guyana."
The work is housed in a wooden silkscreened box with artwork by Annie Moore consisting of a reproduction of Annie's drawing of a tree used on the cover of her 1975 Nursing School graduation program.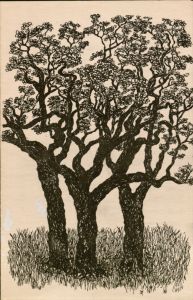 The "Art of Peoples Temple and Jonestown" collection at San Diego State continues to grow as a home for creations by artists working across a range of media – creations that are reshaping the narrative of Jonestown. These works of art must be preserved and the Special Collections Department of the SDSU Library will strive to be the preservation agent in a sustained campaign to become the national repository for artistic interpretations of Jonestown.
(Robert Ray is head of Special Collections at San Diego State University Library. He can be reached at robert.ray@sdsu.edu.)
Originally posted on October 13th, 2014.
Last modified on April 26th, 2018.