More than two decades ago, when I used to be in and out of the National Library in Guyana, there were three books about Jonestown in the lending section: two instant paperbacks, The Guyana Massacre and Suicide Cult, and Shiva Naipaul's Black & White (published in the United States as Journey to Nowhere). Hardly anyone bothered much with Black & White, as the Naipaul brothers were famous for writing unpleasant things about the third world. But the two paperbacks profoundly influenced Guyanese perception of Peoples Temple members as cultists, brainwashed dummies isolated in the jungle where they practiced torture and repression. Quite a number of these paperbacks were circulated around Guyana in the Jonestown aftermath. "Their appearance, twelve days after the events they recount, seems a miracle of journalistic energy and corporate greed," noted a reviewer in The New York Times Book Review.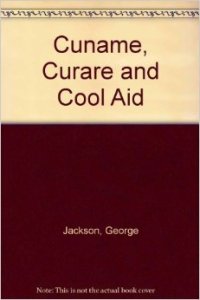 Recently, I checked the library catalog to see what was added to this meager cache of Jonestown books. Three books now join company with Black & White and the two loathsome paperbacks: Cuname, Curare and Cool Aid and Gather with the Saints at the River, and People's Temple, People's Tomb. After 36 years and dozens of books written about this tragic event which unfolded in its own backyard, so to speak, Guyanese scholars have a poor foundation to research Jonestown if they depend solely on the National Library.
Cuname, Curare, and CoolAid (1984) is written by George Jackson, a Guyanese then living in the United States. I do not recall seeing this book in the Jonestown literature before. It deals mostly with local politics and blames the People's National Congress (PNC) government and president Burnham in particular for encouraging what eventually ensued in the North West District of Guyana on that infamous Saturday evening.
Gather with the Saints at the River (1979) by Gordon K. Lewis is really a 50-page essay. Despite frequent uses of 'cult', it is an early sympathetic analysis of Jonestown and concludes with a lyrical, almost Biblical passage:
However distorted their vision may have been, the Jonestown cultists believed in a cause larger than themselves.

….at the end they were prepared, literally, to lay down their lives for it. As we watch them, in their final apocalyptic act, moving forward slowly, willingly, indeed almost happily, to accept their potion of Kool-Aid and cyanide outside the central pavilion of Jonestown, as the saints gather at the river, as they cross their Jordan, as they enter into the valley of the shadow of death, our final sensation must be, cannot but be, the sensation of compassion and pity.
The library clerk couldn't find Phil Kern's People's Temple, People's Tomb (1979) anywhere on the shelves. Instead, she produced a thick volume of what appears to be the report of a board of inquiry into Jonestown, titled Findings, Analysis & Inventory of Peoples Temple Agricultural Settlement. Here is an early—it came out in March 1979—clear-eyed, unbiased description of Jonestown written by anonymous Guyanese officials who were among the first to enter the compound after the mass murder-suicide:
When I arrived at Jonestown with a number of men who were assigned the responsibility of safeguarding the position and property, there was everywhere an unpleasant odor. Here, from all its setting was a well-organized, disciplined and productive community in chaos. Carcasses, corpses, machines, food and food utensils, household appliances and effects, agricultural implements, paper, tools, books, drugs, equipment were scattered all around the complex. Doors were unlocked. The lighting plant and water pumps were operating unattended, indicating a hurried departure of those who once occupied the area.

Crops were withering against the sunlight from lack of attention; livestock and other animals were unattended; freezers were filled with spoilt meat; storerooms and bonds were infested with insects; maggots appeared everywhere with fungus on food items and other essentials: these were some early indication of a deserted community. The only sounds heard were growls and barks from dogs within the settlement, as if they were echoing the pleas of those who were no more.
The Report includes in its appendices detailed lists of machinery, vehicles, buildings, books and furniture. There is a list of Jonestown residents and various maps of the site. A copy of a letter to a minister demanding the recovery of his dental equipment – signed Co-operatively Yours, Dr. Ng-A-Fook, according to the socialist parlance of the day – is also included. Proposals are outlined for Guyanese to maintain and develop the area, which came to nothing as the jungle has long ago reclaimed the abandoned site.
But the Report is of great historical value and probably unknown to scholars and historians researching Jonestown and Peoples Temple. It wasn't even listed in the library catalog I consulted. Of especial importance is a list of 6, 259 books from the Jonestown library, long since thought lost, to the despair of many researchers. John and Barbara Moore, who visited the community in May 1978, mentioned a library of 8,000 volumes but their daughter had raised this amount to 10,000 in a letter written a few months earlier. Whatever, we must be grateful for the Report's list, which shows the wide variety of books in the Jonestown library.
Here, one will be surprised to find Orwell's Nineteen Eighty-Four and Animal Farm, Arthur Koestler's Darkness at Noon, Albert Camus' The Rebel and Thomas Paine's The Age of Reason—anti-totalitarian novels and books that encourage independent thinking, something many thought not possible in Jonestown.
India's ancient classic of eroticism, The Kama Sutra, and its spiritual guidebook, the Bhagavad Gita, is on the list and so is the Christian New English Bible, perhaps the only one in Jonestown at that time. Jonestown had moved on from religion to the achievement of the first perfect Socialist Paradise on earth and all Bibles were consigned to the latrines to be used as sanitary paper. There are many technical and scientific manuals, most notably The Merck Manual and the indispensable Manson's Tropical Disease.
Children were the especial pride of Jonestown and they are heavily represented on this list, which includes The Complete Works of Lewis Carroll, many books by Dr. Seuss and E.B. White's beloved Charlotte's Web and Stuart Little. Some of the stories are accompanied with LP records and cassettes, children musically inclined had access to piano and guitar lesson books.
Jonestown residents interested in the history of their adopted country had at their disposal a History of British Guiana. The tumultuous events that led to independence from Great Britain are richly narrated in the autobiography of Guyana's first premier, Cheddi Jagan, titled The West on Trial, a book, it was said, that Jim Jones personally detested, but which somehow surfaced in Jonestown. There were at least three resident attorneys at one time in the community and they would have been acquainted with Guyanese jurisprudence from Shirdath Ramphal's 13 volume Laws of Guyana.
Finally, what became of these books? Looters were more interested in American dollars than books in the mayhem that followed the killings. Last year a Port Kaituma resident told me he had delivered hundreds of books on a tractor trailer to the school library. I decided to see for myself and visited the dusty library one hot afternoon. I had with me a list of books copied from the journals of Edith Roller, an old woman who died in Jonestown and another made by Nicola Bergström Hansen, a Swedish researcher, from documents collected by FBI agents investigating Jonestown. With these two lists I was able to locate four books from the Jonestown library. One was inscribed by Tim Stoen, a major participant in the tragedy. My hands were trembling when I saw the signature on the other book I was holding: Edith Roller, the same woman from whose journals I had copied the list.
An American teacher on an exchange program at the Port Kaituma school helped me compile a list of books from the school library we thought might have come from Jonestown. One in particular caught my attention: Curare, Its History and Uses, a volume about the Indian poison. I like to think Dr. Larry Schacht researched this volume for his master's Final Solution to the poor souls of Jonestown. The epigraph on the title page is from The Merchant of Venice: 'If you poison us, do we not die?"
(Antony Arcusa was born in Guyana but has lived most of his adult life in Venezuela. His previous article for this website is Ghost Town. He can be reached at: arcusavez@outlook.com.)
Originally posted on October 18th, 2014.
Last modified on October 6th, 2022.