I Am Everyone Who Ever Died Without a Name
—Leonard Peltier's Poem, I Am Everyone (from the back cover, Who Died)
9/16/2015. It is International Week of the Dead, and this morning Al Jazeera World told the forgotten story of the first Algerians in New Caledonia. In 1847, France created a penal colony on this remote Pacific island for the men who had taken up arms against its colonization, in a still-unnamed war. Their families would never see their sons again.
Prisoners who survived the trip were put to work colonizing the island for the French. Most were worked to death. The ones who survived their sentence were released, given a plot of land and told to do what they wanted with it. They took female French convicts as wives – including communards from the Paris Commune imprisoned in convent-prisons on the island – and brought forth the forbears of the New Caledonia Algerians of today, people who still feel a fierce love and identification with the culture of their North African homeland.
They are called the Pioneers. They are venerated as no others by their descendants, who identify as Algerian Muslims. Though European blood shows in their faces, no trace of French history or culture survived. (It was the ultimate justice, I thought, until I found no reference to these prisoners on Wikipedia's pages for either Algeria or New Caledonia.)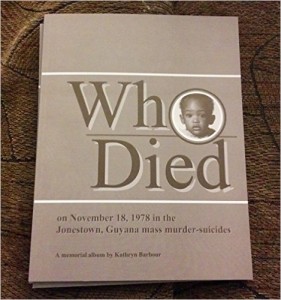 But it is time, the perfect time to launch my book Who Died. It is a book of pictures, and these speak for themselves. It is a memorial to our pioneers, written insofar as possible, in their voice, channeled by me – a survivor who was the least of them. Their smiles embrace you, and it is hard not to be lost in them. I cast it, as a mustard seed, hopefully to be seen by any and every one who has ever had an opinion about the Jonestown Tragedy. Or has suffered because of it, whoever they are.
All I could possibly hope is for readers to feel the same healing that I have felt in beholding their faces. It has not faded, but deepened the more I have looked at them. I know their names better now than I did then, and have learned better who was related to whom. But you don't have to know them to appreciate them. They rise warmly to greet you. The faces awaken remembrance for that year, 1976-77, when there was so much hope, idealism, innocence, sincerity, and optimism. They are the faces of their time. A snapshot of a society. But, oh, what a people!
This book make a dismissive attitude untenable. It is intended for relatives and descendants, and their friends, who have always seen the anniversary of November 18 as an occasion to burrow deep into an environment that will insulate them from any media treatment of it, as the usual capsule coverage runs its course. For us, it will be, as it always has been, about the people we lost. For some the shame is still too deep to properly grieve. This must change, broadly and universally.
And it is about to.
Here, in the absolute equality for which they so strove in life, they do abide at last. Beyond beautiful, they connect with you, whether you knew them or not. To a degree which still mystifies me, but borne out by all feedback from buyers to date. I submit it for your consideration as the book which will reverse perceptions of this event going forward and begin to accord the dead the respect they are due, or rather in this case, so long overdue.
(Kathy Barbour [Tropp] joined Peoples Temple in 1970 with her companion, Richard Tropp, and was living in the San Francisco Temple on November 18, 1978. Her other articles in this edition of the jonestown report are Mystery of the Last Tape Reconsidered and Redefining Jonestown. Her earlier writings on this site can be found here.)
Originally posted on October 27th, 2015.
Last modified on December 26th, 2022.