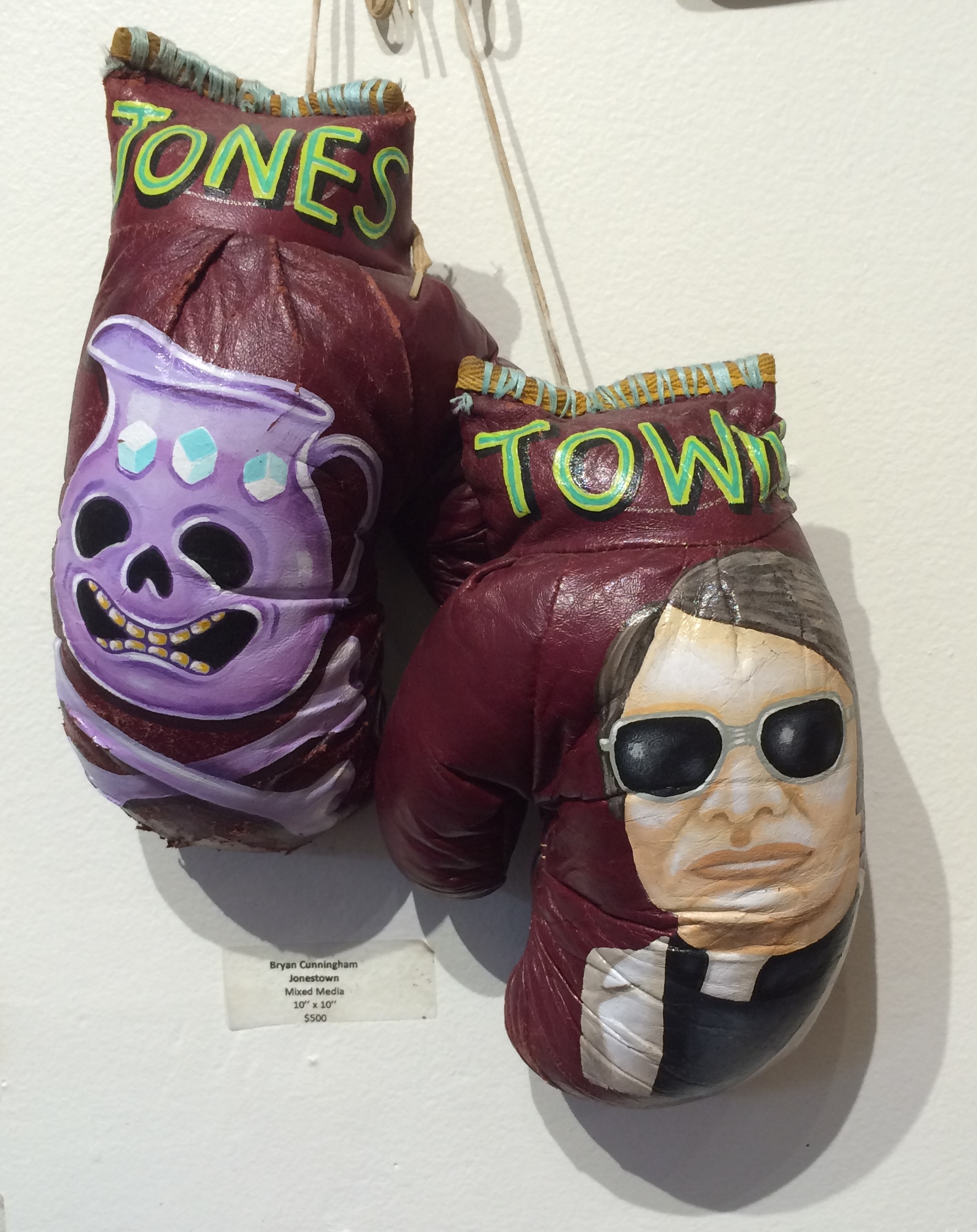 In addition to the stories by artists, composers and filmmakers in this section of the jonestown report, we learned of these other developments within the past year:

Jonestown in Performing Arts
• The Sacred in Opera Initiative of the National Opera Association has selected Andrew Jamieson's 2014 chamber opera Heaven Down Here for a presentation at the 2017 National Opera Convention in Santa Barbara, CA on January 5th. Three singers and staging director Megan Meyer will perform a condensed version of the first two scenes, which present a fictional Temple member named Anne during her first visit to Peoples Temple. The performance will be staged with piano accompaniment in a conference hall during the convention. A panel discussion will follow the performance, during which Jamieson will discuss his understanding of Peoples Temple and his vision for better understanding of the Jonestown tragedy through meditation and exploration in sound, music and drama.
Heaven Down Here was fully staged and performed with dancers and an orchestra in June 2014 in Oakland, California.
Mr. Jamieson's previous articles about his work appear in the 2015 and 2014 editions of the jonestown report.
• Jonestown: A Multimedia Chamber Opera, written by composer and conductor Evan Williams, received an open staged reading on November 13, 2015 at the University of Cincinnati's College-Conservatory of Music.
The first act of this opera was submitted and successfully defended as Williams' dissertation to receive his Doctorate of Musical Arts from the University of Cincinnati. The score is publicly available on OhioLINK. Excerpts from the reading can heard on Soundcloud. In addition, video footage of the entire reading can be viewed on YouTube, in Acts I and II and Acts III and IV.
Evan Williams' reflection on the creation of this opera appears in the 2014 edition of the jonestown report. More information about Mr. Williams and his music can be found at his website.
• A collection of arts groups in Brown County, Indiana produced a dramatic work in February which drew upon the experiences of two of the state's utopian groups, including Peoples Temple. "Utopia: 21st Century Reflections on the Pursuit of Perfection" featured original music and narration presented by local artists in a production that "follows the triumphs and tribulations of characters in a fictional utopia," according to the production's publicity.

Jonestown in Literature
Sikivu Hutchinson's book White Nights, Black Paradise, which was reviewed by Annie Dawid and Rebecca Moore in the 2015 edition of the jonestown report, was published in November 2015, and subsequently reviewed by LA Progressive, Feminist Newswire, Curve Magazine, and PR Underground. Dr. Hutchinson also discussed her book in an interview on the "Off-Ramp" program on KPCC Public Radio in Southern California, and in an interview in Religion Dispatches. She also wrote a blog on the 2015 anniversary for The Huffington Post. An article that uses her work as a point of departure into a discussion of other groups appears in a November 2015 article in The Atlantic Magazine's City Lab.

Jonestown in Film
• Actor Jake Gyllenhaal announced in early January that he was launching an anthology series which would focus on different "cults" and their leaders, with the first season profiling Jim Jones before moving on to Charles Manson and others. Stories about the announcement included coverage by The Hollywood Reporter, Variety, and Coming Soon.
• In September, HBO unveiled plans to present a limited series based upon the book Raven, the most popularly accessible history of Peoples Temple and Jim Jones. Written by Tim Reiterman and John Jacobs, the book was published in 1981, and paperback edition with a new forward was published in 2008 about the time of the 30th anniversary. The announcement revealed that the series would reunite Vince Gilligan and Michelle MacLaren, two alumnae of Breaking Bad, as executive producers, but did not include any anticipated airing date.
The story was reported on multiple websites, including Deadline Hollywood, The Hollywood Reporter, Consequence of Sound, CinemaBlend and Vanity Fair.

Jonestown in Games
Two video game production studios announced plans in 2016 to market games incorporating elements of the Jonestown tragedy.

• Earlier this year, there was a flurry of publicity about a new video game, still in development and set for release in 2017, that, according to the publicity surrounding it, puts the player in the position of a man trying to rescue his nephew from "a commune or cult in South America called the Collective Justice Mission" similar to Peoples Temple and Jonestown. The game itself – The Church in the Darkness – is described by its production company here. Various descriptions and reviews of the game include those at Killscreen, GameZone, True Achievements, TechTimes, Kotaku, and Inverse.
• A second game – which received less publicity – is known as both Outlast II and Outcast II. While not as overt as The Church of the Darkness, the references to the Jonestown juggernaut (900 dead = gore + religion) translate to a gaming delight, as shown in an early teaser on YouTube.
Originally posted on October 21st, 2016.
Last modified on January 4th, 2023.