I returned from Guyana on January 23, 1979, at the age of 21 to start life over. Several members of my family had died, including my two sisters and my two young nephews. Everything now was going to be different, forever changed. What lay ahead in the years to follow was a roller coaster ride of emotions, ranging from shame, anger, depression, guilt, and fear. I would also go on to experience the things that young people in their twenties do: working at jobs, schooling, personal relationships, and partying.
But what lurked like a shadow behind all of that during those years, was my experience of Guyana: the country, the culture, the people, the land, and the climate. I was fortunate to have had the opportunity to meet many people, stay in their homes, eat their delicious traditional food, attend parties and celebrations, and partake in the festivities of different holidays. Something about Guyana had captured me deeply.
This deep connection occurred on an emotional level as well, because in Jonestown, we came to consider ourselves Guyanese. Because of Jim's desire to flee the US, the belief in Guyana as our new home was instilled within us. It felt exciting, especially since many of us came to believe that life in the States was going to be increasingly difficult and dangerous. We learned about Guyanese history, and we learned the national anthem. Although I had internal angst about the challenges of Jonestown, the one thing I felt really good about was now identifying myself as a Guyanese. Growing up in the Temple, believing in Socialism as the best economic structure in which to live, the move to a newly-formed socialist nation was something I had felt good about, and I was proud to be a citizen of the country, although citizenship had not been done formally. From the time I left Guyana, I had felt nostalgic about this "land of many waters" as it is commonly known, and dreamed of going back there some day.
Years passed, and my communications and correspondence with my Guyanese friends and families I had met, dwindled and – who knows when it was – slowly came to a stop. Life went on.
* * * * *
About three years ago, in 2015, some of the survivors began talking about making a return trip. A documentary production company was interested in funding the trip, but complications arose and the plan ground to a halt. But the survivors continued to think about how we could make the trip happen. This time as the new plan began to formulate, I got cold feet. Why did I want to return? Why would I want to go back to a place where I made it out alive, when most people had died? I had heard that it had become dangerous. Why would I want to go to a place that was dangerous? I think I knew at the time those fears were irrational – I know now that they were – but I had to work my way through them.
What remained clear were the reasons I actually wanted to go, and they were far more compelling than any fears I had. When I left Guyana at 21, I had left a huge part of me in Jonestown, Georgetown, all over Guyana. In a way, going back there and making the trek to Jonestown, even though I knew nothing was there anymore, would oddly be somewhat like seeing everyone again, although of course very different too. It would be like saying goodbye in a way that I couldn't before. I would be going back with a new perspective and a substantial amount of clarity of the situation that I had been caught up in, both in Jonestown and the Temple as a whole. I would be returning on my own volition rather than being sent there. I also had a strong desire to reconnect with the people there. It had always bothered me that we – and the tragedy – had created such a negative impact on the country. I wanted to speak with people and acknowledge what we did. I also wanted to be able to answer any questions they had from someone who had been there first hand. Overall, I sensed it would be powerful, helpful in many ways, and definitely good.
Richmond Arquette, who has become a good friend and expert on Peoples Temple during the years he has been working on a Temple project, had gone ahead weeks before us and paved the way for us to have a smooth trip. My friend Kevin Kunishi, a photojournalist and historical documentarian who is working on a Temple project, was also on board and excited about making the trip and being of support. Rikke Wettendorff, who had taken interest in Peoples Temple since 2008 and had become co-editor of the jonestown report, was set to join us all the way from Denmark. Survivor Laura Johnston Kohl, her husband Ron, and son Raul had been wanting to make this trip for a while. We were a cohesive group ready to take the trip.
* * * * *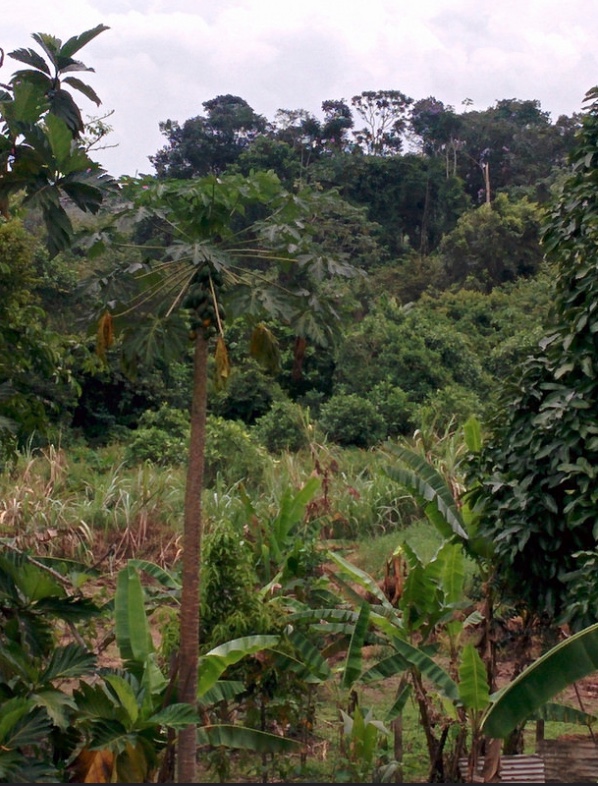 On March 5, 2018, more than 39 years after the deaths, seven of us rocked our way by van into the place that was Jonestown. Fortunately Richmond had been able to locate two of the men – now elderly – who had been involved in the construction of the community's first buildings. The jungle has reclaimed the area, but these two lovely men were able to help orient us as to where certain structures – including the pavilion where we held our meetings – had been. There were some markers, some rusty equipment where the machine shop had been, and a pit that had been used for storage of supplies. The air was familiar, the red dirt, the overall feeling was still there. A feeling that doesn't change. The soul of a place. There was a buzzing of insects and life.
I took a moment to be alone with Rikke, and we quietly took in the place that was now brush and overgrown with plants. Not for a moment discounting the maladaptive situation it had become, I could feel our little town that was once vibrant and bustling, right in the place that we were standing. It was heavy and charged, but I did not feel the feeling of anguish that I thought I would have. I felt at peace, as nature held the place as only nature can do. Sure, I could probably have summoned familiar feelings of anger and pain, and ruminated over the dysfunction and dreadfulness of that last day, or the indelible memory of the media dominant images of bodies strewn across the landscape, but there was no point in that. I just wanted to be at peace. I wanted to show up with all of the reverence and heart that was natural to me, which emanated from every part of my being. Between the passage of time, and Mother Nature reclaiming the place, I was indeed okay and in acceptance. Something had shifted internally. I buried my offering to the land and to the people who died.
That night we had a meeting in the Port Kaituma Community Center. Before heading out to Jonestown that morning, we had sent around a flyer that I had created inviting those in the community who wanted to, to meet with us. The flyer stressed the following points:
We had returned as individuals, representing ourselves not as a cohesive group or entity like Peoples Temple.
We wanted to acknowledge the negative impact that the tragedy had on the community and Guyana as a whole.
We wanted to personally thank the Guyanese people for their kindness and generosity that was expressed to the people of Peoples Temple.
We desired to acknowledge the local Amerindian friends who made it possible for us to be there, by teaching us the ways of the bush, clearing land, creating lumber, and building.
We were open to sharing information about what Jonestown was like and information about Peoples Temple.
We desired to have heart-centered dialogues about what the intention was of the people and the factors that lead to increased dysfunction.
We would answer questions as best we could, to provide clarification how many Guyanese had died in Jonestown.
We would explore together the possibility of continued friendship, and moving forward positively and creatively in a way that had not been possible in the past.
As we sat in a circle in chairs at the community center, the people of Port Kaituma asked many questions. Many rumors had spread about gold, concrete tunnels and the survival of Jim Jones. It struck me how the people of this town had been living with this huge catastrophic event for many years without access to anyone who was actually in Jonestown. The people had been traumatized and had been coping with it.
After the meeting was over, we stuck around for private conversation. One woman I connected with was with her teenage children. She kept hugging me and crying, saying that she was so happy I had survived. They were so gentle and sweet. I was blown away. I took their phone numbers and said that I would keep in contact.
The next day I met Caroline George, the sister of the George children who were Guyanese and had died in Jonestown. I gave her a gift, as well as pictures of her siblings, one of which was a photo of me holding Philip, the youngest. She had not seen any pictures of them since that time, and she was very grateful. It was good to talk with her and laugh with her too.
The rest of our visit to Guyana took us to various places, including Kumaka and Mabaruma, which was so nostalgic for me. Mabaruma, a magical place, looked much like it had all of those years ago with its tree-lined main road. There was birdsong everywhere, and we spotted toucans sitting in the trees. Patricia Cartmell (who perished in Jonestown) and I had stayed overnight at the Pauls' home, a lovely large family who lived on Mabaruma's main road. I was flooded with so many memories. Kumaka, a small port just below Mabaruma, was where the Temple once had a small store that I helped run with Patty Carmell (who also died) and her daughter Patricia. Even after so much time had passed, people still remembered them and asked about them.
I had brought along the 1979 letters of correspondence between myself and people both of this area and of Georgetown, in the hopes of finding them. While walking down the road in Mabaruma with Rikke, I noticed a lovely side road that led to a pretty view of the valley below, so we turned down the road to take a look. We met a young man down there and struck up a conversation. It so happened that he was the nephew of one of the people I was looking for. At a market we met a woman who knew one of the pilots that flew the planes back from the airstrip on November 18th. Things like this happened everywhere we went, that we would meet people and have meaningful conversations.
Once back in Georgetown, there was one thing that I still needed to do before I returned to the US. I wanted to find the Amerindian Peoples Association, a grassroots organization. Aware of the marginalization of Amerindian people – much like in many other places worldwide, including our own country – my desire was to meet with them and acknowledge their instrumental part in our experience and to be open to any possible way of being of benefit to them now. I especially wanted to do this since it was the Amerindian people in the region of where Jonestown was built that really enabled us to build from scratch in the jungle. I gifted several books on the rights of nature and indigenous people that I felt might be of help in their efforts. The woman I spoke with, their Governance and Rights Coordinator, was gracious. It was an emotional meeting for all of us.
At the main library, we met with the head librarian and staff and presented them with a few Temple-related books such as Jonestown Survivor, Jonestown Lullaby, Who Died, and Dear People. Fielding (Mac) McGehee, editor of the jonestown report, had created a special section with articles on Guyana and the Guyanese perspective on Jonestown and Peoples Temple. We distributed these to anyone who was interested. I also gave copies of a coloring book about the environment that I had written and illustrated with a friend.
I was beaming when I left Guyana. I felt like something truly significant had occurred. My desire is to find a way of doing something that will benefit Port Kaituma in particular, as it holds a special place in my heart. Dogs run the streets and are in need of spaying and neutering, and I have a vision of a clinic to help in that endeavor. I am in contact with one man who takes care of many dogs, and yet no clinic exists whatsoever. Another project that Laura Kohl and I are looking at is a book giveaway to occur within the next year or so.
Guyana is a special country. I will always be grateful for the kindness and generosity of her people and for the experiences I was able to have while I was there as a very young person. I am delighted that I was able to return and experience her splendor in such an unforgettable way. I will always regret that such a tragedy happened in such a magnificent place, yet I hold to the vision that it is possible to move forward in a mutually enhancing and life-affirming manner. It is exciting to know that new possibilities exist, not only for further healing but for the special kind of bond between survivors and the Guyanese people, a unique bond that tragedy engenders. As I told our dear friends in our Port Kaituma meeting, I envision the beginnings of a new kind of friendship between us.
(An article about the trip of the Jonestown survivors appeared in The Stabroek News in Georgetown on March 31, 2018.)
(Jordan Vilchez was in Georgetown, Guyana on November 18, 1978, but her sisters and nephews died in Jonestown. Her other articles in this edition of the jonestown report are Caught Up In Living A Lie and A Letter to Clifford Gieg. Her earlier articles may be found here. She can be reached at jordanvilchez@gmail.com.)
Originally posted on September 24th, 2018.
Last modified on November 24th, 2023.