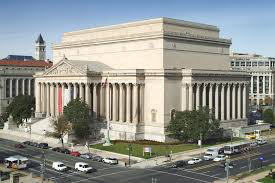 For the past 18 months, I sit down every few days on a wooden chair and desk with an apple-green colored banker's lamp at the National Archives in Washington. My monkish pursuits have not been as dull as they may sound. The Archives is the scholarly resting place for the records of the House of Representatives Committee on Foreign Affairs investigation into the murder of Representative Leo J. Ryan and the Jonestown massacre.
Outside of the military, nowadays anything run by the federal government comes under suspicion. But I say if you keep a few things in mind, conducting research there is a snap.
The Archives I building, a forbidding limestone structure that fills up an entire city block, has a rich history. (The Archives II building is in College Park, Maryland, 12 miles away). It displays original copies of the Declaration of Independence, the Constitution, and the Bill of Rights. Since 1977, every newly inaugurated president except Ronald Reagan in 1985 has walked past it on Pennsylvania Avenue. While big-city downtowns have a reputation for being a nightmare to get in and out of, I have found that walking into the Archives is a breeze, or a light gust at least.
Want to take the subway? Navy Archives is across the street. Want to ride your bike? Three or four blocks away are grey metal racks outside the north wing of the National Gallery of Art. Want to drive in? While finding street parking can be a challenge, it is available outside the southern wing of the National Gallery of Art or on Pennsylvania Avenue.
The hours of operation, 8:45 a.m. to 5:45 p.m. Monday through Friday, are generous by the standards of archives. Compare that to those at the library at the California Historical Society in San Francisco, which is open 1 to 5 p.m. Wednesday through Friday.
I have no real complaint with the staff members inside the Archives and have praise for the two main legislative archivists, Tom Eisinger and Kristen Wilhelm, who have been professional, responsive, helpful and knowledgeable.
* * * * *
Getting into the Archives is easy. Thriving inside is not.
For a large archive, I have found that the number-one problem is a lack of time. As a rule, archival research is a grind in which you must bore through tens of thousands of pages not to mention photographs as well as audio and video tapes. To address this problem at the start of my research, I used my cell phone to snap pictures of documents. But taking pictures, sending an email to myself, and describing the contents in a subject line soon became too laborious.
Then I  bought a scanner. But I discovered any old scanner won't comply with the standards of the Archives, which has a list of specifications. Pages must lay flat when scanned and not fed through a machine, for example.
So I bought a new scanner, a sleek black Canon CanoScan LiDE220, 14 x 9 ½ inches long. It cost no more than $100 at my local Best Buy. Used with a laptop computer, the new scanner has done the trick. Instead of scanning and sending one page a minute, I can scan three pages a minute. That's three times faster than my cell phone.
But an Archives-approved scanner alone does not guarantee research success at Room 203, the Central Research Room, a dark, airy space the length of half a football field. You must abide by the rules governing research conduct:
  Don't lay pages of documents on the edge of a desk.

  Don't wet your fingers to turn pages.

  Open and close scanner to the security guards when entering and exiting Room 203 as well as leaving the Archives.

  A researcher may have no more than 10 to 15 boxes on a cart.
If you break the rules, a staff member is sure to remind you, and not always with the politesse of Cary Grant or David Niven.
I don't mean to complain. The rules are there to protect the materials. The Archives has a web page dedicated to notable thefts at their sites, including those by former National Security Adviser Sandy Berger in 2003. For as the inscription on the south side of the building reads, "The ties that bind the lives of our people in one indissoluble union are perpetuated in the archives of our government and to their custody this building is dedicated."
(Mark Stricherz is a reporter in Washington, D.C. His previous article for the jonestown report is A Hope in the Seen: Leo Ryan's Victory at Jonestown Resounds Today. He may be reached at stricherz2@yahoo.com.)
Originally posted on September 30th, 2018.
Last modified on October 11th, 2018.