The Peoples Temple Collection at the California Historical Society comprises over twenty collections of diverse archival materials, including organizational records; government documents; official and personal correspondence; newspapers and other print publications; research materials; photographs; film and video tapes; audio recordings; and three-dimensional artifacts. Thanks to the generous donations of journalists, scholars, former Peoples Temple members, families, and friends, the collection has grown considerably since 1983, when the California and Guyana courts first deposited the Peoples Temple Records at CHS. It continues to grow, providing the most comprehensive archival record of the organization, from its origins in Indiana to the aftermath of the deaths of November 18, 1978.
This November marks the fortieth anniversary of the tragic deaths in Jonestown, Port Kaituma, and Georgetown. In order to support the study of Peoples Temple and commemorate this anniversary, the California Historical Society will process, and digitize a portion of, the Peoples Temple Publications Department Records as part of the National Historical Publications and Records Commission (NHPRC)-funded project People, Power, and Politics: Providing Access to Contemporary Social Movements Collections. These previously-unavailable archival records—consisting predominantly of photographs of Peoples Temple in California and Jonestown—challenge us to reexamine the history of Peoples Temple in the social and political context of its time, supporting a historiographical shift toward re-evaluating the significance of the 1970s.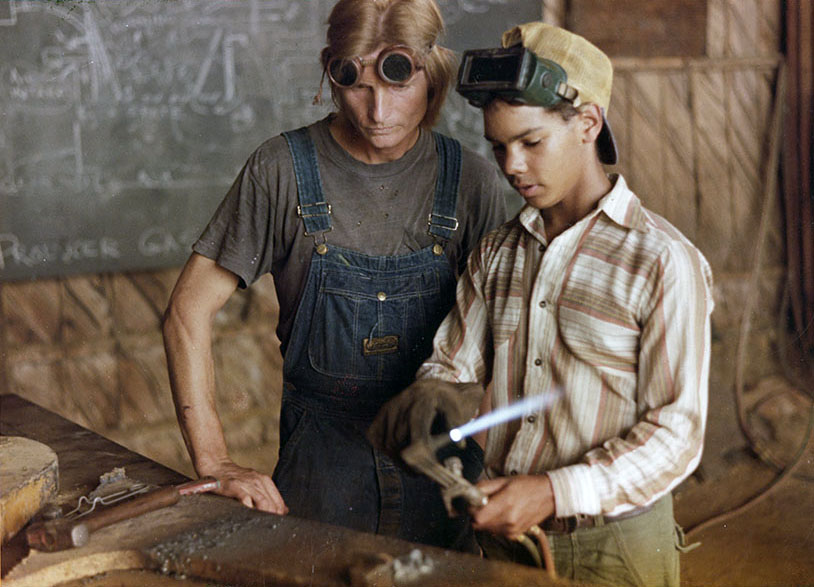 In 2010, former Peoples Temple members Tim and Jean (Brown) Clancey donated the records of the Peoples Temple Publications Department to the California Historical Society. The collection comprises tens of thousands of photographs, making it the single largest extant collection of visual materials documenting Peoples Temple. Created or collected to support the Temple's public relations efforts, these photographs extensively document the organization's activism in California, particularly during the critical years of 1976 to 1978, as well as the Peoples Temple Agricultural Project in Guyana known as Jonestown.
The Publications Department Records not only enrich our understanding of Peoples Temple, they also illuminate the broader political culture of the late 1960s and '70s with thousands of images of activists, politicians, and groups who played crucial roles in local, regional, national, and international politics, as well as photographs of protests and rallies related to the issues of urban development, housing, affirmative action, LGBTQ rights, free speech, Native American sovereignty, Pan-Africanism, and Third World liberation movements. The NHPRC-funded project will support the work necessary to process the collection, make it available to researchers through the CHS Reading Room, and digitize five thousand photographic slides and negatives and forty-nine audio recordings.
An additional commemoration of the fortieth anniversary of Jonestown will be two public programs hosted by CHS at its San Francisco headquarters in November. On November 7th, beginning at 6 p.m., CHS will present a panel discussion about the complex ways Peoples Temple was connected to and influenced by the social, cultural, and political movements of the 1960s and 1970s, including the Civil Rights and Black Power movements. Distinguished scholars James Lance Taylor, Russell Rickford, and Natalie Hopkinson will participate, along with Peoples Temple survivor, San Francisco Police Lieutenant, and President of the Officers for Justice youth program, Yulanda Williams.
The second event will be on November 19th, between 10 a.m. and 12 noon, when the Society will host an open house for survivors, family members, and the public; archivists will be available in the Reading Room to share photographs and artifacts from the Peoples Temple Collection. Details are forthcoming.
If you have any questions about public programs, please contact Patty Pforte, Programs Manager, at 415-357-1848, ext. 222, or by email at pforte@calhist.org.
If you have any questions about Peoples Temple materials at the California Historical Society, or would like to arrange a time to visit, please contact Frances Kaplan, Reference Librarian, at 415-357-1848, ext. 225, or by email at fkaplan@calhist.org.
To inquire about a possible donation or check the progress of the Peoples Temple Publications Department Records processing project, please contact Marie Silva, Archivist & Manuscripts Librarian, at 415-357-1848, ext. 228, or by email at msilva@calhist.org.
Originally posted on September 30th, 2018.
Last modified on October 28th, 2018.