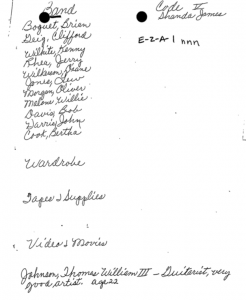 The history of Peoples Temple is reflected in its music. From the standard hymns sung in Protestant churches to the same hymns with altered lyrics to reflect the Temple's move from standard Christianity, from the gospels and blues associated with the Black church to the funk music of the 1970s of the Jonestown Express, from the songs of the 1920s labor movement to the self-styled in-house compositions of radical socialism, the Temple embraced it all.
This page highlights three major manifestations of Temple music. It includes a listing of the hymns which have been identified in the audiotapes of Jim Jones' addresses to his congregations in various locations. It also analyzes the music of He's Able, the 1973 album by the Temple choir and R&B performers. It then reviews the music of The Jonestown Express, the house band of the Jonestown community.
He's Able, a special section of the jonestown report (2009)

Transmissions from Jonestown: He's Able, a podcast by Shannon Howard (2021)
"Songs Primarily in the Key of Life", by Brian Kevin, Colorado Review (Vol. 37, No. 2, Summer 2010, 68-101)

The Music of The Jonestown Express, by Tom Graddon (2021)

The Musical Influences of The Jonestown Express, by Tom Graddon (2021)
Band Member Profiles, by Tom Graddon (2021)
A Tribute to Jonestown's Singer, by Alicia Thompson (2009)

General articles

Music as an Expression of Freedom in the Political Theology of Jim Jones and Peoples Temple, by John Brackett (2012)

A Simple Song of Freedom?: Music in Peoples Temple, by John Brackett (2010)
Originally posted on February 17th, 2021.
Last modified on October 29th, 2022.