(Editor's note: Jennifer Kathleen Gibbons is a regular contributor to the jonestown report. Her other article in this edition is Aloha and Mahalo. Her complete collection of articles is here.)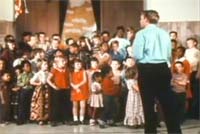 When I heard about Don Beck's death, I was saddened, especially with it coming so soon after Vernon Gosney died. They were both so instrumental in getting what they felt was their truth out about Peoples Temple and Jonestown. It reminded me of an article Don wrote for this website ten years ago, about the video "Go Outside" by the duo known as Cults. In memory of Don – and to see if the video has aged well or not – I decided to watch it again.
I always try to see music videos as short stories. Some short stories leave you with no words (for example, Johnny Cash's "Hurt," with Cash looking back on his life), or they don't age well at all (Michael Jackson's "The Way You Make Me Feel" is a bit creepy now), or they just make no sense at all (I will never understand Guns and Roses' "November Rain"; how did Stephanie Seymour die? What was she thinking with that wedding dress?). Going on that premise, I settled in for another viewing of "Go Outside."
The first thing we see is a NBC Special Report logo, as newsman Edwin Newman leads off a report about "the airstrip at a place called Port Kaituma." As song starts, we get a visual of the Los Angeles Temple with a subtitle "Los Angeles 4 years earlier." Jim Jones is at the pulpit, giving a sermon. People are responding to the sermon – apparently – by singing the song "Go Outside," even as they cry, laugh, and hug each other. One girl in the audience amazed by everything, is not a Temple member, but rather Madeline Follin, the female singer for Cults. "I really want to go out/I really want to go outside and stop to see your day." As Follin sings, we get a view of the church. People are dancing in the aisles. Claire Janaro has her eyes closed, her hands up. A miracle is performed on a blind woman. A young man in a police officer's uniform is playing the guitar with the choir. This is Brian Oblivion, the male singer in the duo.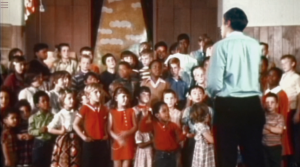 We next see Follin in Redwood Valley, her hair long. She looks blissfully happy. Then Oblivion is seen conducting the children's choir singing "Welcome" – except again, it's "Go Outside" that they're performing. Don Beck was initially upset about this part, as he was the director of the children's choir, and it was his face that was superimposed in the video! What is still heartbreaking is that these children will be dead in Guyana within a few short years.
We see Follin and Oblivion singing and imaged in with real Peoples Temple members. Follin even gets baptized. We then see them in a plane, as they stare down at the green foliage below. They're on their way to the Promised Land of Jonestown. Intermixed with home videos and NBC footage, we see the characters Follin and Oblivion superimposed over Jonestown residents, but in all the shots – as in the original footage – they are happy, even holding a baby. Other shots show residents busy building Jonestown, children enjoying themselves in a parade, and people singing and dancing in the pavilion. What is chilling right before this scene is Jim Jones showing a trunkful of Flavor Aid. The end is coming.
We then fast forward to November 17, 1978. The Jonestown Express is playing, but instead of Deanna Wilkinson singing "That's the Way of the World," we have Follin performing (again) "Go Outside." This is when I have to protest: I really wish Deanna Wilkinson hadn't been replaced. Her performance is so short, but her voice is so lovely. The original footage went a long way to show that the people in Jonestown weren't crazy cultists. They were just trying to find a better place to land. I would've had Deanna and Follin singing a duet somehow instead of Follin replacing her.
We then see another NBC newsman speaking, and a picture of Leo Ryan appears. Follin replaces one of the Houston girls, as she speaks NBC News reporter Don Harris. She then replaces Brenda Parks as Jackie Speier asks Edith Parks and Christopher O'Neal if they want to leave Jonestown. Only it isn't Christopher O'Neal, it's Oblivion with his hair tied back. We see people's reactions as they leave, then Brenda, Christopher and Jackie Speier at the runaway about to board the plane.
That's when the video leaves us. There's no need to see the shootings, no need to see the bodies lying on the ground. What Follin and Oblivion did well was show that – yes – abuse really occurred in the Temple, but there were also people who truly believed they were creating an Utopia, a better world. In under five minutes, you realize what was lost when they all died. It was everything Don Beck lost as well.
Just as striking – another irony – is the scene with the Parks family, most of whom survived that day. Brenda and Edith are now gone. Brenda's boyfriend Christopher O'Neal died seven years ago. Now Don is gone as well.
Maybe the video can help reminds us who all of them were, if only for a while.
Originally posted on October 3rd, 2021.
Last modified on October 15th, 2021.