The people of Peoples Temple are aging. Jonestown survivors, former members, apostates and defectors, relatives, and everyone else connected to November 18, 1978, are all 43 years older than they were then.
A number of others have already died, each of them taking a unique piece of the Temple story with them. Some of the voices that have been stilled in recent years are deafening in their silence. Don Beck, Teri Buford, Vernon Gosney, Claire Janaro, and Laura Johnston Kohl, for example, have two things in common: all of them have died in the last three years; and all had incredible records – files and papers and letters and research materials – that are now gone.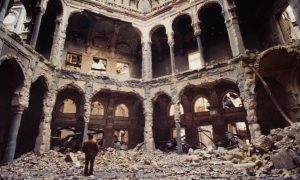 There's a lyric from a Laurie Anderson song, "World Without End," that has haunted me ever since I first heard it in 1994: "When my father died, it was like a whole library burned down." This is what each of us carries within us: a library whose books are arranged according to our own filing system that we alone understand, a library that will never be duplicated, a library that will disappear when each of us dies. Unless…
There are places you can donate the materials you have. Both the California Historical Society and Special Collections at San Diego State University have permanent collections of Temple material. We also offer the Jonestown Institute as a physical repository for them, although when we eventually retire, we will follow through on our commitment to SDSU for a transfer. If there are local libraries or historical societies that you believe might be a better fit, that's wonderful (although we do hope you'll let us know where the material is going).
But for the historians of the future – I'm thinking of the scholars of the 22nd century whose grandparents have not even been born yet – please consider spending some time organizing, preserving, and donating whatever it is you have.
Thank you. 
(Fielding M. McGehee III is the principal researcher for the Jonestown Institute and this website, where he manages tape transcripts, Freedom of Information Act requests, primary source documents, and general inquiries on questions concerning Peoples Temple. His other articles in this edition of the jonestown report are "Drinking the Kool-Aid" as a Tool of Education and Vernon Gosney: A mercurial temperament, a deep generosity. A selection of articles and editorials for the jonestown report is here. He may be reached at fieldingmcgehee@yahoo.com.)
Originally posted on October 11th, 2021.