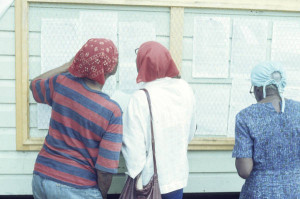 Few events in American history have created a more compelling combination of legitimate academic research and questionable supposition than the incidents that occurred in Guyana at Jonestown. As the initial shock of the events that took place in Guyana 35 years ago begins to fade, public interest, and the attention of researchers and academics, increasingly contemplates this pivotal incident in American social history. This is not without precedent, there seems to be a natural period of shock during which society represses the experience of social tragedies, a shock that diminishes as the experience of survivors becomes social memory, and public interest begins to seek knowledge of the events.
A new era of Jonestown Research
The early attention Jonestown received was partially a result of its membership consisting primarily of women, senior citizens, children, and African Americans. This demography lent itself to researchers interested in the social justice and critical race issues of the time. Research on Jonestown is now entering an era in which researchers will investigate and add diverse perspectives based on the facts, evidence, experience, and theories provided by the seminal explorations of early investigators. The integrity and ethics of these new researchers will be highly examined as society recognizes Jonestown as an important part of American history.
Setting the tone through research   
To illustrate the importance of integrity in relation to Jonestown research I will review several areas that have made a significant impression on the study of Jonestown and the Peoples Temple. As researchers, we should be aware of the vision our work provides to others. According to Chapfika (2008), ethics helps to cultivate the ideals that people pursue and the virtues that are necessary for human beings to flourish. It liberates teachers and learners from popular but harmful ideologies, balances concern for internal and external goods, improves the moral standing of institutions, and provides the community with meaning and value (Chapfika, 48). A researcher, and a teacher, sets a tone that facilitates learning, they should self-examine ethics and methodology, and take time to reflect on the values of the beliefs of others (Henderson, Antelo, & St. Clair, 2010). As researchers, we should strive to stimulate the consciousness of others with authentic inquiry without imposing our own agendas.
Giving voice to the victims
Jonestown is especially powerful as a victim-centered case study that has been highly propagated by various forms of online and digital media. Blutinger (2009) suggests that history creates a false dichotomy between oppression and resistance. There are few victims involving cases of mass suicide, genocide, and severe repression who live to relate their experiences and perspectives to the world. This creates a bias toward the perpetrator's perspective, which may provide the primary source of first-hand information. The narratives of survivors' may also present difficulties with distortions of memory (Blutinger, 270). The researcher should strive to provide objective criteria for inquiry that gives voice to the victim. As a case study, Jonestown provides a concrete example by which teachers and researchers may encourage the critical exploration of complex real-world problems relating to social justice and human rights.
Research and digital media
Digital media provides a powerful interactive technology to motivate and teach issues as genocide and discrimination. When applying digital media to Jonestown it is important to promote critical thinking and analytical reasoning with the use of authentic intellectual research. A result of the cogent role of digital media in our culture, a highly publicized tragedy as Jonestown is susceptible to intellectual and media exploitation. Feminist theory provides the most comprehensive definition of this anomaly from a woman's perspective. Karyn Ball (2003) refers to the potential exploitation of women in some cases of research as "an ominous nexus of corporeal objectification and voyeurism as the conditions of an emerging scientific self-consciousness". Janet Jacobs (2004) suggests that it is the responsibility of the feminist scholar to investigate problems inherent in representation through the lens of objectivity. It is essential that a researcher show respect for the victims and survivors through unbiased inquiry. When exploring a highly publicized event such as Jonestown the researcher should remain objective and consider their responsibility to conduct an ethical investigation.
Learning from Jonestown Research
Jonestown provides an excellent subject through which researchers and teachers may encourage students to examine diverse and complex perspectives involving moral and ethical problems, human rights, discrimination, human behavior, social justice, and their role in the world. It encourages critical thinking and analytical reasoning relating to real-world problems of equality, citizenship, and democracy. With the increasing globalization of education, Jonestown provides a forum for students to consider the multicultural and international significance and meaningfulness of peace, democracy, equality, justice, and human rights. For researchers this highlights the relevance of objectivity and integrity when conducting Jonestown research. The researcher is creating a tone, providing a lens through which others will envision Jonestown, to create their own perspectives, values, meanings, and beliefs.
References
Ball, K. (2003): Unspeakable differences, obscene pleasures: The Holocaust as an object of desire.
Women in German Yearbook, 19
(1)
,
20-49.
Blutinger, J. C. (2009): Bearing witness: Teaching the Holocaust from a victim-centered perspective. The History Teacher, 42 (3), 270-279.
Chapfika, B. (2008): The role of integrity in higher education. The International Journal for Educational Integrity, 4 (1), 43-49.
Henderson, R.L., Antelo, A., St. Clair, N. (2010): Ethics and values in the context of teaching excellence in the changing world of education. Journal of College Teaching & Learning, 7 (3), 5-11.
Jacobs, J.L. (2004): Women, genocide, and memory: The ethics of feminist ethnography in Holocaust research. Gender and Society, 18 (2), 223-238.
(Edward Cromarty is a doctoral student at Northeastern University in Education-Teaching and Learning with emphasis in history and the arts, and has also taken doctoral courses in Urban Education-Teaching and Learning at CUNY. He has an MBA in Education from SUNY-Empire State College, the Professional Certification (PCHPE) in Teaching and Learning in Higher Education from the Institute of Education-University of London, a BFA in Fashion Design from SUNY-Fashion Institute of Technology, a BA in History from West Virginia University, and Certificates in Fashion and Art from the London Institute: Central St. Martins College of Art & Design. Edward has also studied at California State University Long Beach and Los Angeles. 
(Edward is also a regular contributor to the jonestown report. His earlier writings are collected here. He can be reached at edwardcromarty@hotmail.com.)
Originally posted on October 13th, 2013.
Last modified on May 18th, 2020.