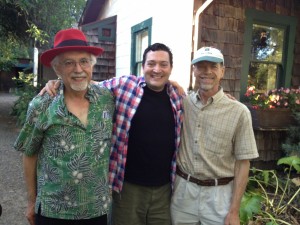 Having survived high school largely thanks to a teen theatre I started myself, I'm sorry I wasn't able to make it to Chicago to catch one of the Youth Ensemble performances of The People's Temple. I was lucky, however, to experience the next best thing: a magical day of my life in the company of the entire, fittingly-multiracial cast as we explored the country where I and so many others had met Jim Jones and joined Peoples Temple decades before they were born.
PJ Paparelli, the artistic director, picked me up at my Oakland home in a mini-whale of a van. I got into the front seat next to him; Laura Matthews and two of the actors – one of whom, Jo-Jo Brown, who plays my part – sat right behind. Having just come from Evergreen Cemetery where Kathy Barbour had displayed the photomats, most of the young people seemed to be in a reflective space. As we headed north towards Mendocino County, I began to talk with them about what had attracted me to Peoples Temple, what it was like in the mid-60s when I encountered the group, what convinced me to make my final departure, and what I had made of my life subsequently.
I quickly realized that I was in the company of some really creative and talented young spirits. The questions with which they peppered me were not the ones I had heard from contemporaries of the Jonestown event. Their curiosity seemed to lack prejudgment and made it a delight to discuss with them the validity of the healings and other sorts of alleged miracles, as well as the realities of torture that could be psychological as much as physical.
Arriving in the Ukiah valley, I pointed out what had and hadn't changed. Our first stop was to pick up Alan Swanson in Talmadge, close to the former Mendocino State Hospital where Marceline and many other Temple members worked. After a picnic lunch at a Ukiah park and a chance to stretch more than brain muscles, we were off to Redwood Valley. The pastor of the evangelical church that now occupies the site had given Alan, Mike Klingman and me a generous tour of the facilities some years before. Since he wasn't available, we pulled into the now rutted parking lot and took a look around the property which has subsequently been subdivided, making it possible to see the parsonage only through a line of trees and shrubs. Everyone stared through the glass doors of the church, while Alan and I described what the interior had looked like nearly forty years ago. Subsequently it's been reduced to a warren of rooms serving a much smaller congregation.
Our final expedition took us to Christ Church of the Golden Rule's Ridgewood Ranch where PT met for most of its first two-and-a-half years in Mendocino County and where I first experienced Jim Jones preaching. As city kids, they seemed to enjoy this part of the trip as much as any other because it got them out into the quiet beauty of nature.
Thanks to Alan's thoughtfulness, we had reservations at an inexpensive MSG-free Chinese restaurant back in Ukiah. The return trip was meditative. The kids chattered, dozed and sang songs from the play, while PJ and I continued talked quietly. After a round of hugs and multiple photographs of the disintegrating bumper stickers on the back of my ancient Toyota, PJ dropped me off at my home. The troupe then set off on its final adventure of the night: a visit to the ocean which many had never seen – much less stepped into – in their still young lives
Sitting at home later reflecting, I felt deeply satisfied that this rainbow group of young people, recruited from those Chicago public schools that haven't yet been closed by the rapacious business elite which controls the city, should be the ones to translate the dreams (as well as the nightmare) of Peoples Templars for their own generation. Those who died at Jonestown as well as those of us who survive should feel honored that such a group should tackle our doomed adventure in interracial community.
(Garrett Lambrev is a frequent contributor to the jonestown report. His other articles in this edition are Pilgrimage Through Richmond and Lynn to Crete, The Tale of the Tape, and Joe Phillips: A Reflection. His previous writings may be found here. He can be reached at garrett1926@comcast.net.)
Originally posted on October 13th, 2013.
Last modified on June 17th, 2018.