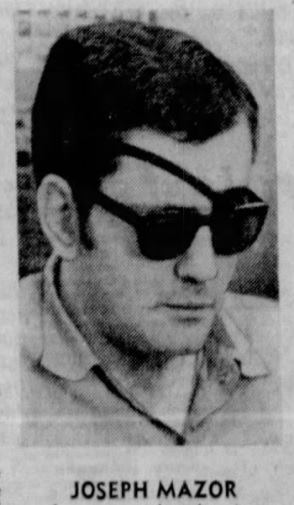 Joseph A. Mazor was both an ex-convict and a licensed private investigator in the State of California. The former should have disqualified him from the latter, and he boasted that he was the first and only person – as of 1977 – to have that distinction. It is also emblematic of the many contradictions in his relationship with Peoples Temple.
It is unknown when he started looking into the Temple: Mazor himself said it was in late 1976 at the request of a friend on the San Francisco police force, although elsewhere he said New West magazine referred ex-members to him for help in early 1977. By August, according to his own count, he was working for 18 families, many of them connected to the Concerned Relatives, in a campaign to retrieve Jonestown residents, by kidnapping if necessary.
It is also unknown when (or even if) Mazor jumped the fence and became an ally of the Temple. According to Mazor – again – he made a secret trip in September 1977 to spy on the Jonestown community. When he found that the conditions were not as Temple defectors had told him, he became disenchanted with the Concerned Relatives' message and eventually switched his allegiance to side with Peoples Temple. The 1977 trip was so secret, however, that U.S. Embassy records show his first trip to Guyana wasn't for another year, in September 1978. On that occasion, he went to Jonestown at the invitation of the project's leadership.
The invitation was not completely open. Jim Jones was suspicious of his new ally, in part because of what the Temple had learned – and what Mazor had acknowledged – about his own past. In various tapes from September 1978, Jones describes the investigator as "the former conspirator who is now an informer" and as a possible "double agent" or a "provocateur," and warns Jonestown residents not to volunteer any information to the man during his visit. Indeed, no one really trusted Mazor – neither the Concerned Relatives nor the Temple – yet each side depended upon him for information about the other. And he may have had a third client: law enforcement.
Joe Mazor was shot to death in November 1985 during a domestic dispute with his wife. Nancy Lou Mazor was taken into custody, but was released within days after her attorney – Temple lawyer Charles Garry – posted bail. In his book, The Murders That Made Us (2021), author Bob Calhoun reported that "Nancy Lou said that, in the past, Mazor had threatened to kill her and her son and throw them in the bay, but she wouldn't say much more about what led up to the shooting. She was acquitted of killing her husband in August 1986."
For a further discussion of Joe Mazor, see Joe Mazor and His Interactions with Peoples Temple: What the FOIA Files Tell Us, by Bonnie Yates (2019).
In addition, the FBI's FOIA files labelled in the Guyana Index as "Joseph Mazor" appear in their entirety here.
Originally posted on April 26th, 2016.
Last modified on October 29th, 2022.