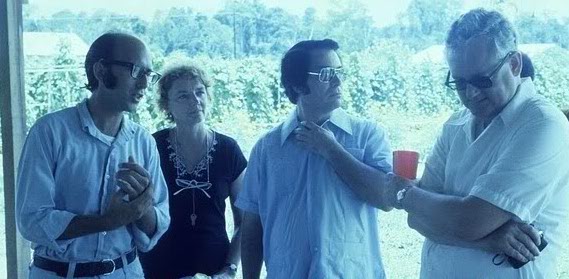 One of the most unforgettable and haunting aspects of the Jonestown story is what is known as the Last Note, one of the farewell letters left behind in Jonestown. First brought to public attention by the Stanley Nelson documentary, Jonestown: The Life and Death of Peoples Temple, it begins with the plea to "Collect all the tapes," and ends it with "Darkness settles in Jonestown on its last day on earth." Those words still shake me to the core. The letter was unsigned but has been widely attributed to Richard Tropp, the Temple's unofficial historian.
Dick Tropp was a very gifted and intellectual man who was a teacher, a newspaper editor, letter writer, and part of the Temple inner circle; his name has often popped up in books about the Temple and Jonestown. I learned about him when I started reading his writings on Alternative Considerations as well the remembrance essays by his former romantic partner Kathryn Barbour and his college friend Dorothy Field. I found myself drawn to both the style of his writings and the idealism and passion for social change conveyed from his words.
When I looked at his data profile in the Who Died section of this website, I was immediately struck by the fact that he was born in my hometown of Brooklyn, New York. So how did a Jewish New Yorker end up as a member of a California religious group associated with one of the most infamous tragedies in American history? That was a question that I tried to answer with my profile of Dick Tropp that I had been writing on and off for the last couple of years, and now will be finally published on the 40th anniversary of the tragedy.
My background is primarily in arts and culture journalism, and yet I felt this need to write about Tropp's story as one example of many fascinating and stories about the Jonestown victims whom people don't often get to know about, because the media focus has always on Jim Jones and the event. Aside from the personal essays by his acquaintances, not much is really known about Tropp. This provided yet another impetus for me to want to write about him.
The challenge, of course, in doing this profile was that the subject died decades ago.
Fortunately, there was a sufficient amount of source material available from the books and periodicals that mention Tropp as well as his own writings. What I needed to do, however, was to talk to his former Temple colleagues to paint a more personal portrait of the man. Through the Speakers Bureau of Alternative Considerations, I was able to reach out to folks like Kathryn Barbour, Dorothy Field (who was a not Temple member), Laura Johnston Kohl, Tim Carter, Hue Fortson, and Jean Clancey–all of whom graciously shared their memories of Dick.
Going into the interviews, I knew that talking about Tropp would most likely conjure up traumatic memories of Peoples Temple and Jonestown for the people I interviewed. Thus, I had to tread delicately and carefully to earn their trust—I wanted to show that I really knew my stuff about the Temple beyond the cliched remark of "drinking the Kool-Aid." Fortunately, I don't recall asking any questions that were out of line but rather with genuine curiosity and empathy. At the same time, I needed to seek the truth, warts and all, however unpleasant it may be.
Adding to my research for this project, I traveled to San Francisco and Oakland for the first time in 2016. There, I spent time visiting some of the places associated with Peoples Temple history, including the Temple headquarters on Geary Street and the memorial at Evergreen Cemetery. To say visiting the cemetery and seeing the memorial plaques were a sobering experience would be an understatement. I also went to the California Historical Society and looked over old copies of the Temple Forum that Dick once edited.
Overall, based on four years of on-and-off-work, the result was a 5,000-word piece about a man who died four decades ago but still left an imprint, as did the other more than 900 victims. Certainly I didn't want to mythologize Dick or depict him as a perfect and virtuous hero. I understand that if he were alive today, he'd probably feel uncomfortable to be portrayed in such a light. Yet there is no denying Dick's unwavering dedication to the Temple in order to achieving racial, social and economic justice–as indicated through his writings. His time in the Temple gave him a spiritual mission and a sense of purpose that was shared by many within the church.
Of the numerous stories I've written throughout my career, Tropp's story was for me a very fulfilling project. Similar to the effect of Stanley Nelson's documentary, I hope what I wrote will encourage people to really examine the history of the church and its unsung members, and not just focus solely on one man and one day.
(David Chiu is a freelance writer residing in Brooklyn, New York. His profile of Dick Tropp appears in Medium. He is also the author of Jonestown: 13 Things You Should Know About Cult Massacre, published in Rolling Stone on November 17, 2017. He may be reached at davidchiuwriter1@gmail.com.)
Originally posted on September 24th, 2018.
Last modified on October 16th, 2018.