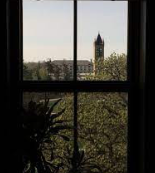 I am not sure when I first met Mary Sawyer. My parents, John and Barbara Moore, knew her – or at least knew of her – in San Francisco. She had been working in a coalition with Peoples Temple members on a group investigating FBI harassment of Black elected officials. She was also on the staff of California Lt. Governor Mervin Dymally, a longtime supporter of the Temple.
When the tragedy struck, Mary was devastated because she had liked the Temple members she'd met and valued the activist, often militant, stance they took on race relations. In a letter of condolence to my parents, she wrote:
I go back to the basic, historical premise that if one would overcome the evils of racism and classism, one must confront and be engaged in combat directly with these evils. One cannot escape or hide; the evil will follow you out, destroy you—either from within, or from without, or both. . . . Our task is to continue to struggle against evil, that good might prevail.
And so she did, her entire life, as a social activist and advocate for Black liberation.
Mary earned the M.A. from Howard University, a historically Black college, and the Ph.D. from Duke University under the mentorship of renowned Black scholar C. Eric Lincoln. She was a strong advocate for Black Studies and co-founded the Black Studies Department at Iowa State University. The author of three books and numerous articles on African American religion and politics, she also co-edited one of the most important books about Peoples Temple ever published—Peoples Temple and Black Religion in America (Moore, Pinn & Sawyer 2004).
Even though I cannot recall when I first met Mary, I'm pretty sure it was at one of the memorial services held at Evergreen Cemetery. She had a shy, almost withdrawn demeanor, the legacy of being sexually abused as a child and coming from the working class. She battled depression for decades. That makes her forthright and even militant defense of African Americans as a White woman all the more amazing, given her affect, which projected insecurity and self-doubt.
I would also see Mary at the annual meeting of Religious Studies professors, the American Academy of Religion. We'd usually have a meal together, talk about Peoples Temple, and hang out a bit. One time I saw her with a load of books she'd purchased at a discount at the book exhibit. I said something about her addiction (to books). As a former alcoholic, Mary heard it not as a joke but as a serious comment, even a criticism, which she mentioned to me several times later on.
We had talked for a number of years about co-writing a book about Peoples Temple, but nothing was happening. I approached another scholar and he was eager to work on it. When I told Mary, she was extremely disappointed. I'd somehow violated her trust—or perhaps it's just that she wanted to write her own book about Peoples Temple and the Black experience. Fortunately the project had a happy ending, we all worked together on the product, and Peoples Temple and Black Religion in America became the first scholarly book to collect writings by and about African Americans concerning the Temple.
Mary continued to write about Peoples Temple for the Alternative Considerations website. Those articles appear here.
When I was living in Milwaukee, I would visit Mary in Ames, Iowa, a day's drive away. I recall a trip we made to the Iowa State Fair where I paid a dollar to milk a cow (!). I saw her through a number of life changes professionally and personally, including her coming out as a lesbian.
It was harder to get to Iowa from California once I moved, but I had been planning a trip in 2015 when Mary called and asked if I could come out. I said, what about the end of the semester. She said, what about now. She had terminal lung cancer, undiagnosed for more than a year despite x-rays that clearly showed a tumor. I flew out within two weeks.
Although she was weak and feeling poorly, we did go out to a restaurant for a breakfast – as I recall – of strawberry pancakes. I cleaned up her computer, deleting personal emails that were nobody's business but hers. We visited the nearby Dubuque Franciscan Community and its hospice. The sisters there voted to let Mary come for her final days. I think she had some sort of affiliated status.
On that visit Mary confessed to me that she was convinced that she had been African American in a previous life. She told me some childhood stories where she stood up for the Black kids in school because she was one of them.
Whatever the reasons or motivations she had, Mary Sawyer was outspoken and unfailing in her commitment to racial justice. I've already said what was most important when I wrote the following after her death:
She is greatly missed by colleagues and students alike who were inspired by her passion for justice. She sought a collective movement as her home and might have joined Peoples Temple were it not for its collapse in 1978. She finally found her spiritual home among the Sisters of Saint Francis at Clare House. Rest in peace, dear Mary.
Work Cited
Moore, Rebecca, Anthony B. Pinn, and Mary R. Sawyer, eds. 2004. Peoples Temple and Black Religion in America. Bloomington, Ind.: University of Indiana Press.
Additional Resources
"Former ISU Religious Studies Professor Mary Sawyer Dies at 71." 2015.
"Mary Sawyer. Plaza of Heroines." 1996; updated 2015.
(Editor's note: Rebecca Moore is Professor Emerita of Religious Studies at San Diego State University, and has written and published extensively on Peoples Temple and Jonestown. Rebecca is also the co-manager of this website. Her other articles in this edition of the jonestown report are Dr. Hardat Sukhdeo: The Man Who Knew Too Little, Godwin's Law and Jones' Corollary, The Cult of Jim Jones, and Striking to the Marrow of Jonestown. She is also the author of a second remembrance, for clinical professor of psychology Chris Hatcher. Her full collection of articles on this site may be found here. She may be reached at remoore@sdsu.edu.)
Originally posted on October 21st, 2022.
Last modified on December 26th, 2022.