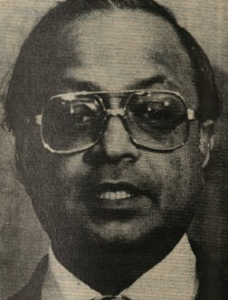 Dr. Hardat Sukhdeo is not a well-known figure in the story of the Jonestown tragedy and its aftermath, but it wasn't for his lack of trying. The Guyanese psychiatrist who made his home in the United States had a few years and fifteen minutes of fame as an anticult activist, largely in connection with media coverage of the deaths in Jonestown and the trials of Larry Layton. He then returned to his former obscurity as head of the Department of Psychiatry at the University of Medicine and Dentistry of New Jersey and eventually to private practice (FindAGrave). Although a few conspiracy-minded writers later attempted to depict him as a government agent who played a sinister role after the deaths (Meiers 1988: 496–99; Hougan 1999), that case is hard to make by the standards of ordinary evidence.
Dr. Sukhdeo gained international publicity as a cult expert by traveling to Georgetown, Guyana to talk with the shell-shocked survivors over the course of ten days and by gleaning some knowledge of the trauma they had endured. He concluded that they had been brainwashed and were still brainwashed, that they continued to be dominated by Jim Jones, even though he was dead.
Sukhdeo treated survivors throughout 1979 (Follow-Up 1979: 30). He testified at Larry Layton's trials in Guyana in 1979 and 1980, and though he was prepared to testify at Layton's two trials in the United States, the defense team decided against calling any psychiatrists – especially Sukhdeo – as witnesses. Apart from giving occasional interviews around Jonestown anniversaries, he pretty much disappeared from both the Jonestown and the anticult scenes.
The last connection between Hardat Sukhdeo and Jonestown survivors that I could locate came from a 1999 account of Chad Rhodes, accused of fatally shooting an Oakland, California police officer. Rhodes was the son of Juanita Bogue, a Jonestown survivor whom Sukhdeo had counseled. According to Sukhdeo, Juanita had never really left the trauma of Jonestown behind. "We got them out [of Guyana physically]," he said, "but I don't think we ever got her out" (Lewis 1999).
These are the bare facts. What follows is a fuller discussion of what I was able to piece together from newspapers, government documents, books about Jonestown, and even conspiracy websites and articles. These latter items often pointed me to primary sources I would not have found otherwise. What these resourceds did not provide, however, was a credible examination of Dr. Sukhdeo's activities. This article attempts to present such an explanation.
Before Jonestown
Hardat Arjune Sastri Sukhdeo was born in Georgetown, Guyana in 1934 and received a degree in medicine from University of London College of the West Indies in Jamaica in 1962. After he married Angella Lindo a year later, the couple moved to Connecticut for him to complete a residency in psychiatry (FindAGrave). The website StevenWarRan Backstage (Warran 2013) asserts that his residency was at Connecticut Valley Hospital, but I cannot confirm this since many links on this conspiracy site are offline and other items are factually incorrect. He joined the Yale University Medical School in 1967 as an Assistant Professor of Psychiatry, and in 1972 joined the faculty of the University of Miami Medical School, where he founded the Crisis Intervention Center (FindAGrave).
In 1973, Sukhdeo served on a panel in Miami Beach that discussed mental health services in Miami-Dade County (N.a.[a]. 1973). Presumably this presentation formed the basis for an article published the next year in a volume on emergency medical care that described the work done at the Crisis Intervention Center he established at Jackson Memorial Hospital (Sukhdeo 1974). The article details the advantages of having a crisis intervention team available to monitor psychiatric emergencies that frequently go undetected or misdiagnosed. Yet, in a somewhat odd news article about the work of the team at Jackson Memorial, Sukhdeo reported that hundreds of people went to the clinic every month asking for the exorcism of evil spirits. "Last month we had 900 people come for help. We worked our tails off – maybe there was a strong pull from the moon or something." He attributed the belief in demons to a form of hysteria, adding that "you cannot contradict them." Treatment nevertheless consisted of the usual method, namely administration of strong tranquilizers to calm the patient (Associated Press[a] 1974).
In 1975, Sukhdeo joined the faculty of the University of Medicine and Dentistry of New Jersey (FindAGrave), and though FindAGrave suggests he began as chief of psychiatry there, as late as 1978 he was identified as deputy chief. He successfully completed the American Board of Psychiatry and Neurology Examination given in Cincinnati in June 1978 (American Board of Psychiatry and Neurology 1978: 1463). He and his family moved to New Jersey and lived in Upper Montclair before retiring to Miami Beach in 2000.
Sukhdeo seemed to became interested in cults when "a surgeon friend who had kidnapped his son back from the Moon cult pressed him for help" (Clines 1978: B23). Interviewed by Secret Service agents after his return from Guyana at the end of 1978, Sukhdeo said he had been "five years in this business" of cult watching (RYMUR Serial 1645: 30); he also told FBI agents that "he has studied cults for the past five years" (RYMUR Serial 1213). This would suggest that he began research into cults when he was still in Miami. He is acknowledged on the book jacket of Crazy for God, Christopher Edwards' 1979 critical account of life in the Unification Church (Edwards 1979). "This book is written in gratitude . . . to Dr. Hardat Sukhdeo, whose compassion and wisdom enabled me to recover my mind and will" (Edwards 1979: Back cover). Edwards' book also acknowledges Galen Kelly, a well-known deprogrammer and anticult activist (Wright and Palmer 2016).
Sukhdeo's connection to Galen Kelly led to the doctor being named a co-defendant in a lawsuit filed by a member of a communal group called the Circle of Friends. The plaintiff, Joan Stedrak, claimed to have been deprogrammed by Kelly and by "'Dr. Sikhdao,' a Montclair psychiatrist who allegedly interviewed Ms. Stedrak during the deprogramming" (Roeder and Connor 1978). The suit was filed just eleven days before the deaths in Jonestown.
Jonestown Aftermath
According to an FBI memorandum, Dr. Sukhdeo arrived in Guyana on 25 November (RYMUR Serial 1213), although a New York Times article puts the date as 27 November (Treaster 1978: A16). In several sources he says that he was in Guyana for 10 days (see e.g. Clines 1978: B23; Follow-Up 1979: 30), but the math doesn't quite add up since he returned from Guyana on Pan Am Flight 288 on 3 December (RYMUR Serial 846).
The first mention of Hardat Sukhdeo in Guyana that I could find included comments he made to a New York Timesreporter in Georgetown on November 28, when he said that he had paid for the trip himself in order to study cultists (Treaster 1978: A16). He told the reporter that the survivors had been brainwashed and were in need of help in order to return to the wider society. "These people are very much used to being given directions . . . and they're going to go through a process of [re-]socialization" (Treaster 1978: A16). According to Sukhdeo, many had been happy under Jim Jones' totalitarian rule because they were living in a structured, if harsh, environment for the first time in their lives.
Two days later, another Times reporter interviewed Sukhdeo (Nordheimer 1978: A16). According to this story, the psychiatrist had been interviewing survivors at Georgetown's Park Hotel and reading self-criticism statements written by Jonestown residents before they died. He compared Peoples Temple members to the "Moonies" (Unification Church members), saying neither group allowed its participants to express feelings. "In the Peoples Temple you could only feel the way Jones wanted you to. You had to submerge all of the feelings" (Nordheimer 1978: A16). As in his earlier coverage in the Times, he expressed concern that the U.S. government had no plans to assist with the re-entry into mainstream society of those returning. "They've lost the underpinnings of their whole life," he said.
An Associated Press article dated 4 December quotes Sukhdeo as fearing that many survivors may commit suicide. "I would say most of them, if they were given the opportunity, and if in a few weeks or months, their true feeling comes out and their environment is difficult, they might turn to just ending their lives" (Esper 1978: D1). He expressed particular concern for Odell Rhodes, who had to be taken to the hospital in Georgetown for what Sukhdeo called a severe anxiety reaction due to the pressure of outsiders besieging him with offers for book deals, employment, and other enticements. "The majority of [survivors] are depressed and are confused and they would like some direction in their lives. . . . They don't really know where they're going, what they're going to," he said (Esper 1978: D1). This is because they had been living under the total control of Jim Jones, a master of mind control, as Sukhdeo put it (Esper 1978: D1). In an interview a few months later, he expressed surprise that FBI investigators who went to Jonestown failed to find any books on mind control in Jim Jones' cabin (Reston 1981: 228).
According to a government cable, the first encounter the FBI had with Sukhdeo occurred on 4 December at the Newark airport:
Newark. Interview [name deleted] [Hardat Sukhdeo], New Jersey College of Medicine and Dentistry, telephone number [deleted] or at residence, telephone number [deleted], concerning knowledge of PT members aboard flight 228 and other PT members while in Guyana (RYMUR Serial 846).
Translated into plain English, the FBI interviewed Hardat Sukhdeo concerning his knowledge about the ten survivors he had flown with, as well as his understanding of others he met during his stay in Georgetown.
An FBI memorandum summarizes the gist of the interview conducted on 4 December (RYMUR Serial 1213). The FBI was primarily interested in possible threats to public officials, but Sukhdeo knew of no hit list, adding, nevertheless, that all of the defectors believed that Jones had Mafia connections who would kill anyone who left the community. Although he said that the survivors who had returned were little risk to others – if anything, they might be suicidal – "the thirty-six individuals that still remain in Guyana could definitely be dangerous" (RYMUR Serial 1213). Sukhdeo declared that "all of the [Jonestown] suicides were voluntary," basing this claim upon his interview with Grover Davis. He also asserted that some survivors might become a threat if they were sufficiently brainwashed to respond to cues that might trigger homicidal or suicidal actions. He concluded that all of the survivors needed deprogramming. To ensure that eventuality, he seemed to have handed his business card to a number of people, since it was among the effects of one survivor who was interviewed in the Miami airport sometime on or before 6 December (RYMUR Serial 1373).
Upon his return to the United States, Dr. Sukhdeo became extremely busy. On 5 December, the day after his FBI interview at the Newark airport, he spoke by telephone with Charles O'Keefe, a Carter White House staff member. O'Keefe reported his discussion to Robert Lipshutz, the president's counsel, who in turn forwarded O'Keefe's memorandum to Philip Heymann, the Assistant Attorney General investigating the assassination of Congressman Leo Ryan (RYMUR Serial 911). According to O'Keefe, the psychiatrist was deeply concerned about the mental health of the Jonestown survivors, whom he divided into three groups: those who interacted extensively with reporters at the Park Hotel in Georgetown; those who remained isolated from the public because of their seclusion in Lamaha Gardens, the Temple's Georgetown residence; and some 20 to 25 who had been detained and then released by Guyanese officials. These latter two groups he considered "open time bombs," claiming that they are "absolutely brainwashed" and dedicated to restarting the Temple movement (RYMUR Serial 911). O'Keefe also forwarded this summary to officials at the State Department, the Justice Department, the Treasury Department, and the Department of Health, Education, and Welfare (now the Department of Health and Human Services).
O'Keefe's memo to Lipshutz had legs. On 12 December, two unnamed U.S. Secret Service agents interviewed Sukhdeo in his Montclair, New Jersey home (FBI Serial 1645). The 77-page, oddly-transcribed interview (typed on lined paper), is a fascinating look into the mind of a professional anticultist as well as the minds of government agents investigating the deaths in Jonestown. The conversation was wide ranging, covering the Unification Church, the Hare Krishnas, the Black Panthers, possible links between the deaths in Jonestown and the assassinations of San Francisco Mayor George Moscone (misspelled as Mosconi in the transcript) and San Francisco County Supervisor Harvey Milk, and more. Much misinformation was exchanged. The Secret Service agents shared questions they planned to ask Jonestown survivors, but Sukhdeo dismissed them as likely to elicit canned answers. Only a trained psychiatrist like himself could tell if someone were lying or telling the truth (RYMUR Serial 1645: 37–39). He suggested that they ask instead feeling-type questions rather than factual-oriented questions to generate better responses.
The heart of Dr. Sukhdeo's advice focused on the problem of brainwashing and the consequent need for deprogramming. He claimed that he went to Guyana because "I looked at this as a mental health emergency and to see if we can get the type of help for these people to reprogram them" (RYMUR Serial 1645: 56–57). He recommended that interrogators softly play the Bee Gees's song "How Deep Is Your Love" as survivors waited for interviews to begin. He believed that residents were programmed to respond to this song, which had been sung by the Jonestown Express on the night of Congressman Ryan's visit (RYMUR Serial 1645: 8, 33). The music would create an emotional state that would mentally return them to Jonestown, with the result that they might talk more freely about their experiences there.
It is not clear if the Secret Service or the FBI took up any of Sukhdeo's suggestions from the interview, although it seems unlikely since the transcript was not circulated until early January 1979. (Transcripts of interviews conducted with survivors by FBI agents as they returned from Guyana are available at RYMUR Serial 1681.) What is clear, however, is that the interviews with the FBI in Newark and the Secret Service in Montclair were probably the foundation of Sukhdeo's claim that he "consulted with the Secret Service and the FBI in the aftermath of Jonestown," as James Reston Jr. reports in his book Our Father Who Art in Hell (Reston 1981: 228). The book is the obvious source for Michael Meiers' assertion that Sukhdeo "was employed by the CIA or at least he was paid by what he calls the 'secret service' for his work as a 'consultant' on the post-Jonestown investigation" (Meiers 1988: 496). The similarities between the two statements are unmistakable.
In 1979, Sukhdeo obtained funding from the National Institute of Mental Health (NIMH), to travel to California in February and April to counsel Jonestown survivors, but NIMH did not pay for a third visit in July (Follow-Up 1979: 30). According to Meiers, Sukhdeo provided the money for Odell Rhodes and Stanley Clayton to support themselves in the summer of 1979, although this aid may well have come from the NIMH grant, part of which was intended to hire three survivors to assist former older Temple members (Gallagher 1998: n.p.). On his visits to California, Sukhdeo met with survivors at the Human Freedom Center, established by Al and Jeannie Mills, until it closed.
Sukhdeo also testified in August that year at a hearing conducted by the New York State Assembly Committee on Child Care on the treatment of children by cults (The Advisor 1979: 11). He told those assembled that he had counseled twenty-five young survivors in California, who continued to admire the goals of Jonestown but who now saw Jones as "a bad guy" (Associated Press[b] 1979: 9B). They saw their American peers as engaged in frivolous pursuits, such as drinking and driving, according to the psychiatrist.
Most significantly, however, Hardat Sukhdeo traveled to Guyana in 1979 and 1980 to testify at the two trials of Larry Layton, accused of the murder of Congressman Ryan at the Port Kaituma airstrip. Eventually the charges would total five counts of murder, three counts of attempted murder, and one count each of possession of an illegal firearm and illegal ammunition (Reston 1981: 22). Layton's attorneys in the United States hired the psychiatrist early in 1979 to consult with them on their client's behalf for Layton's two trials there. (For complete information on all prosecutions against Larry Layton, see McGehee 2022.)
Hardat Sukhdeo and Larry Layton
Following an arraignment in December 1978, Larry Layton was bound over for trial in the Guyana courts in early January 1979. By mid-January, he was also charged in absentia in U.S. federal court with violating the Congressional Assassination Statute. In other words, once the trial in Guyana was concluded, Layton would be extradited to the United States to face further charges. Although the first trial was set to begin 19 February, it was delayed for nine days so that Hardat Sukhdeo could attend to testify on the issue of mind control – a topic that could not actually be addressed until after conviction during the mitigation phase of the trial (Reston 1981: 22–23). After further delays and legal wrangling, the judge acceded to the defense's request to declare a mistrial in early March. According to Reston, who wrote one of the very few accounts of Layton's first trial, the defense believed that he was unfit to speak in his own defense, that he remained in thrall to Jim Jones and feared he might "betray" the Temple leader (Reston 1981: 25). "When I was on the plane, I didn't know if I was Jim Jones or myself," Layton proudly announced to the court (Reston 1981: 27). Layton flunked Sukhdeo's concentration tests, being unable to count backwards from 100 by 7, and forgetting the names of the U.S. presidents who had served during his lifetime.
Meanwhile, a grand jury that had convened in San Francisco issued a bill of indictment against Layton on 14 March, charging him with assassination and conspiracy to commit assassination. Although witnesses from the United States were unwilling to return to Guyana for another trial, pressure from the U.S. Embassy prompted the Guyana government to issue a new indictment and hold the second proceeding. The revised indictment, however, charged Layton only with the attempted murder of Vernon Gosney, Monica Bagby, and others on the plane that Layton had boarded. It did not include any counts relating to Ryan and the four others killed on the airstrip.
The second trial finally commenced in May 1980. Dr. Sukhdeo testified on the ninth day, shortly after Larry Layton was allowed to make an unsworn statement in which he declared his innocence. A summary of the testimony prepared by U.S. Embassy officials stated that Sukhdeo:
described the methods of mind-control exercised by the cult of the late Jim Jones. He claimed that a combination of drugs, poor diet, lack of sleep, nearly complete physical isolation, and Layton's "hysterical personality" could have induced a trance-like state in Layton during which he would not be aware of his actions. (RYMUR Serial 2444)
Under cross-examination, the psychiatrist had to admit that not all of the people in Jonestown appeared to be brainwashed, that he did not have any first-hand experience of Jonestown, and that all of his opinions about conditions in the community were based on survivor accounts.
On 22 May, the jury voted 10-2 to acquit Layton of all counts of attempted murder. The U.S. Justice Department acted quickly to make sure that the embassy in Georgetown had an official complaint in hand – United States of America v. [Laurence] John Layton (the complaint misspelled his first name as Lawrence) – to forestall Layton's release after his acquittal, but it still took several more months before he was deported to the United States on 21 November.
A trial was scheduled to begin in San Francisco in July 1981 on four charges: conspiring to kill a U.S. member of Congress; aiding and abetting in the slaying; conspiring to attempt to murder a U.S. diplomat; and aiding and abetting in the attempt. A number of pretrial hearings dealt with the admissibility of various pieces of evidence, such as the so-called death tape (ruled inadmissible) and Layton's coerced confession in a Guyana jail (ruled admissible). Federal prosecutors particularly wanted access to taped interviews Sukhdeo made with Larry Layton in 1979 and 1980. The FBI served the psychiatrist with a subpoena in January 1981, and though the items sought in the subpoena were not specified, it is possible they were the audiotapes (RYMUR Serial 2591). Judge Robert Peckham denied the government access, however, ruling in May that there was no authority to compel production of the tapes and that their release violated attorney–client privilege, psychotherapist-patient privilege, and the Fifth Amendment right against sel-incrimination. It is worth quoting Peckham's decision at length because it solves a number of mysteries.
Dr. Sukhdeo offered his assistance to the F.B.I. He does not seem, however, to have made any general offer to assist in the F.B.I's investigation, but rather to have offered aid in coping with the suicidal feelings of the survivors and in predicting the actions of certain surviving members of the Peoples Temple who might pose a threat to defectors. On a number of occasions, Dr. Sukhdeo met with F.B.I. agents to discuss his concerns, but at no time did they "retain" him to assist in their investigation of this case or in the prosecution of the defendant. Under a grant from the National Institute of Mental Health, Dr. Sukhdeo began treating some of the survivors, not including the defendant.

In early 1979, Tony Tamburello, a defense counsel in this case, retained Dr. Sukhdeo, primarily to treat Layton, and secondarily to advise him and Layton's Guyanese attorneys in relation to charges that might be filed against Layton in Guyana or elsewhere. After this time, all fees and expenses in relation to Dr. Sukhdeo's treatment of Mr. Layton were paid by Layton's family. It was after this time that Sukhdeo interviewed Layton on several occasions (United States v. Layton 1981).
Peckham also pointed out that neither the prosecution nor the defense planned to call Sukhdeo as a witness. According to its motion, the government simply wanted the tapes to prepare for the trial.
Layton's defense team did not call any psychiatrists as witness. In fact, the defense rested its case without calling any witnesses whatsoever, arguing that the government had failed to make its case. The strategy seemed to work, since after ten days of deliberation, the jury deadlocked eleven-to-one for acquittal on conspiracy charges and seven-to-five for conviction on aiding and abetting. Judge Peckham declared a mistrial on 16 September 1981.
The federal government mounted a second trial on the same charges five years later, on 9 October 1986. Following its earlier strategy, the defense did not present any witnesses, although it had reports from four and had consulted with several others (United States v. Layton 1987). But this time the jury voted on 1 December to convict Layton on all four counts. Facing concurrent life sentences and additional prison time – though with a recommendation for parole after five years – Larry Layton filed a motion to set aside and vacate the 1986 verdict, based on the claim that he was denied effective counsel. The Sukhdeo tapes returned as an issue in this motion.
Larry Layton had adamantly refused a psychiatric defense in both trials, and also refused to testify, even though his attorneys investigated and prepared a psychiatric defense in the second trial. Nevertheless, the team went with its original strategy, believing that the second trial went better than the first (United States v. Layton 1987). The problem was that Layton had made a number of damaging statements to the psychologists and psychiatrists who had interviewed him. Again, extended comments from Judge Robert Peckham illuminate the role Hardat Sukhdeo played in the Layton trials.
The most damaging statements made by Layton were contained on tapes of several interviews with Dr. Hardat Arjune Sukhdeo. In those interviews, which took place in February 1979 and May 1980, Layton told Dr. Sukhdeo that he initially volunteered to blow up the plane with dynamite, but Jim Jones refused. Then, Layton said, he offered to take down the plane with a gun, but Jones refused again. However, about twenty minutes later, Maria Katsaris, a top aide to Jones, came to Layton and instructed him to carry out the plan. According to Layton's statements in the Sukhdeo interview, he expected everyone, including Congressman Ryan, to be on the plane that he shot down. . .

Because Layton's statements to Dr. Sukhdeo implicated him in a conspiracy with Jim Jones and/or Maria Katsaris to kill Congressman Ryan, the defense team early on decided not to use Dr. Sukhdeo as an expert psychiatric witness. . . Furthermore, the statements Layton made to Dr. Sukhdeo were never revealed to the other psychiatrists and psychologists who might have been called on Layton's behalf. . . For two reasons, however, these tapes still posed a problem for the defense team. First, even though the defense had successfully resisted the government's efforts to discover the Sukhdeo tapes, there was reason to believe that the government had independently obtained copies. . .

Second, the Sukhdeo tapes also posed an ethical dilemma for the defense team. Layton could have taken the stand to testify that he had never suggested using dynamite [but] the Sukhdeo tapes revealed that Layton did in fact suggest using dynamite. Thus, if Layton had so testified, his defense lawyers feared that they might have an ethical obligation to reveal their client's perjury to the court and/or withdraw from the case. . . Furthermore, if Layton had taken the stand and testified that he only intended to kill the defectors, or that he never volunteered for the assignment, his lawyers would have been confronted with the same ethical dilemma, especially in light of Layton's admissions . . . that he had in fact volunteered, and that he viewed Ryan as a troublemaker.
The defense team was able to elicit from prosecution witnesses quite a bit of information relating to Layton's state of mind, and thus did not have to deal with either the problems inherent with an insanity defense or the ethical dilemma of knowing that their client had lied. The lawyers also felt that jurors were likelier to believe testimony from lay persons rather than professional psychiatrists. In this instance, they miscalculated.
News articles, court rulings, and FOIA documents from the RYMUR investigation therefore undermine Jim Hougan's assertion that Sukhdeo actively sought to avoid testifying at the Layton trial. "Dr. Sukhdeo's primary concern, according to [his lawyer Robert] Bockelman, was that it should not be revealed that the State Department had paid his way to Guyana" (Hougan 1999). But the FBI verified that the State Department could find "no record regarding [Hardat Sukhdeo], M.D., as being an employee, consultant or medical expert with the USDS. [Name deleted] further states that the USDS hires only US persons in the US for medical services" (RYMUR Serial 2461). Aside from the fact that one wonders why Robert Bockelman ignored the principle of attorney-client privilege, his assertion simply appears false. There is no citation for his statement.
Nevertheless, Hougan did get quite a few things right, including the fact that Sukhdeo continued to meet with the FBI even after he had been retained by defense attorneys.
According to Dr. Sukhdeo's declaration, he met with F.B.I. agents on a few occasions even after he was retained by Mr. Tamburello. He continued to offer his assistance in dealing with Peoples Temple survivors, and also met with F.B.I. agents to ask to hear the "Last Hour Tape." He states that at no time during these meetings did he disclose any confidential communications between himself and Layton. (United States v. Layton 1981)
It seems unlikely, however, that the meetings were "surreptitious" or unknown to Layton's lawyers, given Sukhdeo's declaration to the court.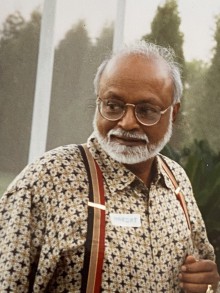 The Return to Obscurity
What are we to make of Dr. Hardat Sukhdeo? Opportunist who saw Jonestown as the means to parlay a reputation as a cult expert? Federal agent tasked with debriefing survivors to disguise a conspiracy to kill Congressman Ryan or to mask a mind control experiment at Jonestown? Psychiatrist who had genuine concern for survivors of Jonestown?
I do not doubt that, given his experience as a psychiatrist, Dr. Sukhdeo did care for the survivors in a professional, if not personal way. Although he viewed them and their experiences through the lenses of anticultism – diagnosing their problems as brainwashing and mind control rather than trauma and loss – he still seemed uneasy about their future welfare. In addition, I highly doubt that he worked for or consulted with any government entity in a paid capacity, apart from receiving a small grant from the National Institute of Mental Health. He would have been a liar extraordinaire to continue to state in numerous venues that he traveled to Guyana in the immediate aftermath at his own expense.
This leaves the opportunist option, for which I believe there is the strongest evidence. First, Sukhdeo's explanation for his first trip to Guyana kept changing in the weeks after Jonestown. Initially, it was "to see a whole group of people who were suddenly cut off from a cult" (Treaster 1978: A16). He was in Guyana "evaluating the mental state of the survivors" (Esper 1978: D1). He "flew to Georgetown to study survivors" (Follow-Up 1979: 30), or "flew to Jonestown to help counsel survivors" (N.a.[b] 1978: 35). Or, he was "working with survivors of the People's Temple tragedy" or investigating "the pathology of the sect" (Nordheimer 1978: A16). He became a specialist in cults who treated cultists in private practice (Winfrey 1978: B18). "The siren-like attraction of cults" led him to investigate "the most egregious case history imaginable for his specialty" because it was "a staggering research opportunity" (Clines 1978: B23). By 1979 he says he had counseled thirty-five survivors (Follow-Up 1979: 30). It seems fair to conclude that he initially traveled to his native Guyana simply to see what was going on, but quickly realized that this was a once-in-a-lifetime chance to make a name for himself in the anticult field, once he realized how many reporters wanted to interview him. Moreover, survivors did in fact need mental health counseling, among other things.
This gets to my second point, namely the vague nature of Sukhdeo's research endeavors. At first he stated that he was organizing a private research group, the Center for Coercive Persuasion (Nordheimer 1978: A16). Then he said he had already begun a "formal cult-study project," the Center for the Study of Coercive Persuasion (Clines 1978: B23). In early 1979, however, Chris Edwards, the former member of the Unification Church whom Sukhdeo deprogrammed, was identified as "founder of a psychiatric research group on 'cult-related' problems," where he was serving as Project Director. The group was the same: the Center for the Study of Coercive Persuasion (Edwards 1979: Back cover). On the first anniversary of the Jonestown deaths, Sukhdeo told a reporter that he was stepping down from his position as Chief of Psychiatry at the University of Medicine and Dentistry of New Jersey to "devote himself full time to research on cults" (Gallagher 1979: n.p.). But he did not step down, at least not then.
Third, and most egregious in my opinion, Dr. Sukhdeo repeatedly claimed that the government did nothing to help Jonestown survivors. But less than two weeks after the Jonestown deaths, the newly-appointed mayor of San Francisco, Dianne Feinstein, met with an advisory committee to discuss ways to assist residents of the city in general, and members of Peoples Temple and survivors of Jonestown in particular (Moore 2022). Dr. Chris Hatcher, a clinical professor of psychology at the University of San Francisco, was appointed to head the "Joint Federal/State/Local Task Force on the Peoples Temple/Jonestown mass suicide/murder" (Moore and McGehee 1989: 236). The task force quickly decided that:
(1) direct contact needed to be made quickly with members inside the San Francisco Temple;

(2) the potential for self-destructive violence inside the Temple needed assessment; and

(3) the potential for violence between Temple groups and relatives needed assessment (Hatcher 1989a: 133).
In the years that followed, Hatcher was ever present to Temple survivors throughout California, and perhaps elsewhere around the country. He held frequent meetings with both individuals and groups, including dissident members who feared the loyalist survivors. He contributed three articles to two books I co-edited with Fielding McGehee, and specifically directed one chapter to former members that discussed the ways in which they experienced coercion and control as Temple members (Hatcher 1989b). Another essay presented a historical overview of governmental responses to Temple survivors in the San Francisco Bay Area (Hatcher 1989a). For many decades he attended the annual memorial service at Evergreen Cemetery in Oakland, California.
And, unlike Hardat Sukhdeo, Chris Hatcher was a well-published scholar, including co-authoring a textbook Innovations in Counseling Psychology (1977). This brings me to my fourth and final point. Despite exhaustive searches of databases, journal listings, and other sources, I have been unable to identify any articles that Dr. Sukhdeo wrote other than the one published in 1974 noted above. Because online psychiatry and psychology databases – such as PsycArticles, PsychInfo, Psychiatry Online, Psychological Experiments Online, Gale Psychology Collection, Psychotherapy.net, and PTSDPubs – do not always list the full back catalog, I also searched individual journals, such as the American Journal of Psychiatry, which provided two items: Dr. Sukhdeo's participation in a 1973 conference and his board certification in 1975. I admit that I did not search absolutely every possible academic or medical journal, so I might have missed something. I also searched Google Scholar to see if Sukhdeo was cited anywhere, and found a French book on demonology quoting from the article in which he described the patients seeking exorcism at Jackson Memorial Hospital. I also located two articles citing Sukhdeo's testimony before the New York State Assembly: one in the Journal of Legal and Social Problems, the other in the NYU Review of Law and Social Change.
Perhaps most surprising is his absence from the website of the International Cultic Studies Association, the premier cult-watching group in the United States. A search of the ICSA website does not produce any hits for Sukhdeo, whereas a search on, for example, cult expert John G. Clark turns up three pages of hits. But I did not entirely trust the site search, so I also cruised through the various iterations of ICSA publications: The Advisor, Cultic Studies Newsletter, The Observer, Cultic Studies Journal, Cultic Studies Review, and the International Journal of Cultic Studies. I searched through ICSA Today looking for an obituary for Hardat Sukhdeo in the 2014 and 2015 issues and found nothing. His name never appeared among the anticult luminaries who served on the ICSA board – Margaret Singer, John G. Clark, Louis J. West, or James and Marcia Rudin.
The ICSA search was particularly frustrating because the Steve Warran website includes ten truncated references to ICSA that mention the name Hardat Sukhdeo. I was able to locate the articles that footnoted his testimony, but I could not find the articles that seemed to reference him in passing. That doesn't mean they aren't there, simply that I could not find them. More to the point, however, is that ICSA seems to have no articles authored by Hardat Sukhdeo; even an extensive "Clinical Bibliography" that lists hundreds of articles about counseling former cult members does not include him (Langone n.d.).
In addition to the apparent absence of publications is Dr. Sukhdeo's absence from the University of Medicine and Dentistry of New Jersey (UMDNJ). Searches of the online catalogs for the library and archives of both UMDNJ and its affiliate, Rutgers University, failed to turn up any mention of Hardat Sukhdeo. (To extend the searches, I looked up both Sukhdeo and Hardat Sukhdeo.) The explanation – he left UMDNJ to enter full time private practice in 1986 (UWI Alumni Online n.d.). This would account for the lack of scholarly articles and might explicate his subsequent disappearance from anticult activities, even though he reportedly served as a consultant during the Branch Davidian crisis in 1993 and the Heaven's Gate suicides in 1997, according to the alumni association of the University of the West Indies. There is no evidence he was consulted in either event, however, and it would take a Freedom of Information Act request to take this further. Nor is there evidence to support the alumni assertion – published either in 2021 or 2022 – that "he was sent by the U.S. State Department to facilitate the rehabilitation of survivors of the mass suicide in Jonestown" (UWI Alumni Online n.d.). If this were true, then Sukhdeo had been lying for decades. I think it's more likely that he simply exaggerated his own importance, suggesting and implying connections and status where none existed.
It therefore seems safe to say that Dr. Hardat Sukhdeo may have used the Jonestown tragedy to advance his own career as an anticult activist. Perhaps because he was a practicing clinician he never had the time to publish to the same extent that other cult experts did. Or, perhaps his brush with the law in the Galen Kelly lawsuit may have deterred him from further active deprogramming. His near meteoric rise into publicity, and equally swift descent into obscurity, would argue that his role in the Jonestown tragedy was minor. At most.
Acknowledgments
I owe a debt of gratitude to Brenna Norman, ILL librarian par excellence at the San Juan Island Public Library, for locating obscure books and articles for me; and to Fielding McGehee, whose transcriptions of FBI serials allowed me to track Dr. Sukhdeo's contacts with U.S. Government officials.
References
The Advisor. 1979. "Transcripts Available: Treatment of Children by Cults." The Advisor: Journal of the American Family Foundation 1, no. 3 (December): 11.
Associated Press(a). 1974. "'Exorcists' Use Modern Methods." Daytona Beach Morning Journal, 1 March, p. 14A.
Associated Press(b). 1979. "Jonestown Survivors Idealistic." Daytona Beach Morning Journal, 11 August, p. 9B. Also at https://news.google.com/newspapers?id=uVAfAAAAIBAJ&sjid=3NEEAAAAIBAJ&pg=3343,4166856&hl=en
Clines, Francis X. 1978. "About Newark: Understanding the Jonestown Horror." New York Times, 14 December, B23.
Edwards, Christopher. 1979. Crazy For God: The Nightmare of Cult Life. Englewood Cliffs, NJ: Prentice Hall. Complete book available open access at "The Tragedy of the Six Marys." https://tragedyofthesixmarys.com/crazy-for-god-chris-edwards/
Esper, George. 1978. "Jonestown Survivors Will Never Escape Horror." Associated Press. [Washington, PA] Observer-Reporter, 4 December, D1. Also at https://news.google.com/newspapers?id=oe5dAAAAIBAJ&sjid=dF8NAAAAIBAJ&pg=1511,426850&hl=en
FindAGrave. 2022. Dr Hardat Arjune Sastri Sukhdeo. https://www.findagrave.com/memorial/136083487/hardat-arjune_sastri-sukhdeo
Follow-Up. 1979. "Cult Expert Says Jonestown Survivors Need Psychotherapy." Medical World News 20 (August): 30.
Gallagher, Nora. 1979. "Jonestown: The Survivors' Story." New York Times, 18 November, n.p.
Hatcher, Chris. 1989a. "After Jonestown: Survivors of Peoples Temple." In The Need for a Second Look at Jonestown, ed. Rebecca Moore and Fielding M. McGehee III, pp. 127–46. Lewiston, NY: Edwin Mellen Press.
Hatcher, Chris. 1989b. "Coercion, Control, and Mass Suicide." In The Need for a Second Look at Jonestown, ed. Rebecca Moore and Fielding M. McGehee III, pp. 61–72. Lewiston, NY: Edwin Mellen Press.
Hougan, Jim. "Jonestown. The secret life of Jim Jones: a parapolitical fugue." Lobster 37 (Summer 1999): 2–20; online at Alternative Considerations of Jonestown and Peoples Temple (henceforth shortened to Alternative Considerations).https://jonestown.sdsu.edu/?page_id=16572
Langone, Kristine. n.d. "Bibliography: Papers Related to Clinical Work with Families and Former Group Members." International Cultic Studies Association. https://www.icsahome.com/icsa-publications/clinical-bibliography
Lewis, Gregory. 1999. "Oakland Man Charged." SFGate, 13 Jan. https://www.sfgate.com/news/article/OAKLAND-MAN-CHARGED-3305050.php
McGehee, Fielding III. 2022. "The Prosecutions of Larry Layton." Alternative Considerations.https://jonestown.sdsu.edu/?page_id=117582
Meiers, Michael. 1988. Was Jonestown A CIA Medical Experiment? A Review of the Evidence. Lewiston, NY: Edwin Mellen Press.
Moore, Rebecca. 2022. "Chris Hatcher, 1946–1999: A Long-Overdue Appreciation." the jonestown report 24. https://jonestown.sdsu.edu/?page_id=118088
Moore, Rebecca, and Fielding M. McGehee III, eds. 1989. The Need for a Second Look at Jonestown. Lewiston, NY: Edwin Mellen Press.
N.a.(a). 1973. "A Quarter of a Century: Where Are We Now?" Psychiatric Services 24, no. 9 (1 September): 596.
N.a.(b). 1978. "Nation: Paranoia and Delusions." Time Magazine, 11 December.
Nordheimer, Jon. 1978. "Jersey Psychiatrist, Studying Guyana Survivors, Fears Implications for U.S. Society from Other Cults." New York Times, 1 December, A16.
Reston, James Jr. 1981. Our Father Who Art in Hell: The Life and Death of Jim Jones. New York: Times Books.
Roeder, Kent and Joe Connor. 1978. "Cult Members Seeking Court Protection." [Morristown] Daily Record, November 7, p. 5.
RYMUR Serial 846. 1978. Memorandum noting FBI interview of Hardat Sukhdeo, 4 December. https://jonestown.sdsu.edu/?page_id=89791
RYMUR Serial 850. 1978. Summary of FBI Interview with Hardat Sukhdeo, 4 December. https://jonestown.sdsu.edu/?page_id=89799
RYMUR Serial 911. 1978. Memorandum from Robert Lipshutz to Philip Heymann, 6 December. https://jonestown.sdsu.edu/?page_id=89933
RYMUR Serial 1213. 1978. Summary of FBI Interview with Hardat Sukhdeo, 4 December. https://jonestown.sdsu.edu/?page_id=91470
RYMUR Serial 1373. 1978. Miami Teletype to Bureau, 11 December. https://jonestown.sdsu.edu/?page_id=100188
RYMUR Serial 1645. 1979. Transcript of Secret Service Interview with Dr. Hardat Sukhdeo conducted 12 December 1978; 10 January. https://jonestown.sdsu.edu/?page_id=79043
RYMUR Serial 1681. 1979. RYMUR Section 24. Alternative Considerations. https://jonestown.sdsu.edu/?page_id=71087
RYMUR Serial 2444. 1980. Testimony of Hardat Sukhdeo. Alternative Considerations. https://jonestown.sdsu.edu/?page_id=105134
RYMUR Serial 2461. 1980. FBI memo regarding Hardat Sukhdeo, 15 July.
https://jonestown.sdsu.edu/?page_id=105171
RYMUR Serial 2591. 1981. FBI Subpoena of Hardat Sukhdeo, 14 January. https://jonestown.sdsu.edu/?page_id=105691
Sukhdeo, Hardat. 1974. "Handling Psychiatric Emergencies in a Large Metropolitan Emergency Room by a Crisis Intervention Team." In Emergency Medical Care: Medical and Trauma Management. Emergency Medical Services Planning, ed. J. Clifford Findeiss, pp. 227–34. New York: Intercontinental Medical Book Corporation.
Treaster, Joseph B. 1978. "Doctor Sees Danger in Cult Survivors' Deep Despair." New York Times, 29 November, p. A16.
United States v. Layton. 1981. Decision on motion to produce Hardat Sukhdeo Tapes, 8 May. https://casetext.com/case/us-v-layton-11
United States v. Layton. 1987. Decision on motion to vacate and set aside 1986 conviction, 3 June. https://casetext.com/case/us-v-layton-11
Warran, Steven. 2013. "Dr. Hardat Sukhdeo Worksheet." StevenWarRan Backstage. http://stevenwarran-backstage.blogspot.com/2013/05/dr-hardat-sukhdeo-worksheet.html
Winfrey, Carey. 1978a. "Letters to 'Dad': Portrait of a Cult's Faith and Fear. New York Times, 29 November, p. A1, A14.
Winfrey, Carey. 1978b. "Still Praising Sect, 10 Reach U.S." New York Times, 4 December, B18.
Wright, Stuart A. and Susan J. Palmer. 2016. Storming Zion: Government Raids on Religious Communities. New York: Oxford University Press.
(Rebecca Moore is Professor Emerita of Religious Studies at San Diego State University, and has written and published extensively on Peoples Temple and Jonestown. Rebecca is also the co-manager of this website. Her other articles in this edition of the jonestown report are Godwin's Law and Jones' Corollary, The Cult of Jim Jones, and Striking to the Marrow of Jonestown. She is also the author of remembrances for longtime Temple scholar Mary Sawyer and for clinical professor of psychology Chris Hatcher. Her full collection of articles on this site may be found here. She may be reached at remoore@sdsu.edu.)
Originally posted on October 28th, 2022.