(Edward Cromarty is a regular contributor to the jonestown report. His complete collection of articles is here. He can be reached at edwardcromarty@hotmail.com.)
Introduction
The community concept of counseling in Jonestown correlates with the socialist community based educational concept employed in Jonestown, which was described as a school without walls, and with the cooperative socialist educational and governmental systems of Guyana in which the Jonestown school was accredited (Guyana Chronicle, 19 June 1978). It was an understanding of these two factors which led to the writing of this paper and to expand my initial approach of the subject of educational counseling to encompass counseling for the entire community.
One of the difficulties of reviewing counseling in Jonestown is that there are no formal credentials for counseling in cult situations (Eichel, 2016). Another is the lack of documentation about the counseling programs that existed in Jonestown. In examining counseling in Jonestown, I referred to the works of Don Beck – whose research on Education, Housing and Population was especially valuable – Laura Johnston Kohl, Deborah Layton, and several additional sources. Don Beck suggested that I review the Journals of Edith Roller from 1975 to 1978. An important part of counseling individuals involved in high demand group relationships includes supporting self-efficacy which involves accepting and learning from mistakes (Eichel, 2016). Performing this review refined my perspective of the counseling and I hope will further the reader's insight of life in the Jonestown commune.
Structure of Counseling in Jonestown
The counseling services in Jonestown were organized into Counseling Groups. The administration of the counseling groups was headed by Ava Jones, the secretary was Andrea Walker, the scheduling of counseling sessions was handled by Kay Nelson – who also served as the Supervisor of the special team for Emergency Counseling – and the Assistant Supervisor of Emergency Counseling was Christine Young (Beck in Education, Housing, and Population, 2008; hereafter, Beck). The counseling groups consisted of four teams, A through D, with each having about 17 counselors and one special team of emergency counselors comprised of nine members. One person from each team was designated to take notes of the counseling meetings. A handwritten note on the bottom of the counseling chart made in Jonestown states that many of the people did not show up, which narrowed the teams down to seven or eight counselors (Beck).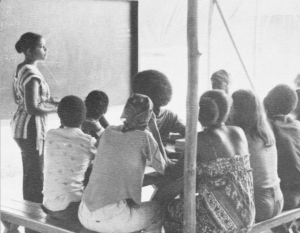 Laura Johnston Kohl (2012) observed that women held the majority of the leadership positions and made many of the important decisions in Jonestown. The reason for this was not necessarily that Jim Jones had a commitment to women's equality, but rather that he sought to remove men from positions which could threaten his authority. Despite the power and authority vested in this inner circle of women, Jones micromanaged Jonestown and at times made final counseling decisions, particularly in difficult cases or on issues affecting the entire community. Review of the counseling leadership corroborates Kohl's findings that all leaders in the counseling services were women as were most of the counselors in the counseling groups.
Counseling services during Peoples Temple's California years had proceeded in a more informal manner, usually consisting of problem solving and helping college students sponsored by the church. It is expressed in terms of caring for each other, and helping people solve problems with the wisdom, common sense, and common goals of ordinary people working together through shared experience. Interviewed by Laura Johnston Kohl in 2013, Don Beck, who was involved in the establishment of counseling in Peoples Temple in Redwood Valley, gave two examples of counseling as assistance in organizing a bake sale and helping to move into a new house.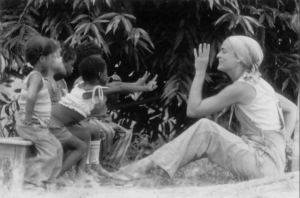 Training for most of the counselors followed the pattern of caring people helping to solve common problems with the wisdom of experience. On-the-job training utilizing problem-based experiential learning in conjunction with the tutelage of skilled craftspeople was the favored method of training for most occupations in Jonestown. The teaching faculty in the Jonestown school was highly qualified, and the Jonestown school was accredited by the Guyanese government. Tom Grubbs, the principal of the Jonestown school, boasted in Q 191, a tape recorded in Jonestown on August 8, 1978, that the teachers under his supervision were trained in child guidance counseling, diagnosis, and remediation of learning problems. Grubbs also stated that the school had fantastic educational and audio-visual materials. This implies that there was professional counseling that took place in the school, even though the majority of counseling may have been within the community.
According to handwritten counseling notes, regular counseling took place on Thursday night. The four teams of 15 to 20 counselors were split between the Library and the Rice Tent with each team handling five or six cases totaling between 20 and 25 cases. Steering Committee meetings took place on Monday night with the best counselors in attendance. Classes were scheduled every other week on Wednesdays. A note mentions that they tried to have counseling hours on Sunday, but people did not want to give up what little free time they had. The notes explain that it was difficult to intensely handle 20 regular cases on Thursday nights, especially when some cases took up one to two hours each. Therefore most of the petty cases were scheduled at night, with more intense cases scheduled during the day. Intense cases were handled by Kay Nelson, Jack Beam, Lee Ingram, Laura Johnston, Ruby Carroll, and Rhonda Fortson (Counseling Groups, in Education).
Counseling sessions were scheduled during the day so as not to interfere with an individual's work hours. Oftentimes that meant the schedules were made according to profession. For example, medical workers were counseled during their daily meeting 2-4 pm or during breaks. Psychological cases were scheduled in the afternoons as most were not working. High School students were scheduled during project time, which was 1-3 pm. Emergency cases were scheduled as necessary. Kitchen workers were scheduled during break times, and warehouse workers when the warehouse was closed. School teachers were scheduled from nursery through adult during nap time, after school at 4 pm, or on break time from 1-3 pm (Counseling Groups, in Education).
The counseling procedure was simple, based on common sense problem-solving, rather than counseling theory. As outlined in Counseling Group Notes from October 1978, all counselors were advised to "participate as if it was your own life." The 10 principles mentioned were:
1) Investigate stories from both sides;

2) Be fair but firm;

3) Learning and teaching-discipline for stealing, fighting, talking negative against Dad (Jim Jones), Mom (Marceline Jones), the cause, destroying property;

4) Make sure person(s) understand why they are wrong and how to correct situation;

5) Always say 3 miracles at end of counseling session;

6) Secretary takes accurate notes;

7) If a serious case and does not end in a result, refer the matter to be taken up in "P. Ralley" [Peoples Rally];

8) Stay in command, and never allow person being counseled to control counseling;

9) Be kind, concerned, understanding, but firm;

10) Never show disagreement among counselors. If disagreements occur to excuse themselves and discuss problems.
Listed beneath these basic precepts were some additional details, such as always taking notes and making sure all cases run smoothly. Other details are difficult to read.
In reviewing the basic principles of counseling in Jonestown the practice-based application is apparent. One can also see the influence that Jim and Marceline Jones held over daily life in Jonestown, and that the primary focus of counseling, as the other activities in Jonestown, was in promoting the social causes of Peoples Temple.
Counseling in Practice in Jonestown
Jim Jones graduated from Butler University with a degree in education before he became an ordained minister, first with the Independant Assemblies of God International, and later with the Disciples of Christ. An ordained minister with a degree in education may have had a sincere interest in counseling. This may help to explain the importance placed on both counseling and education in Peoples Temple. Jones was also a man of his time – born in 1931, he experienced the years of World War II and the Holocaust in Europe as a teenager – and the period deeply affected his perception of the world. Scores of tapes recorded both in the U.S. and in Jonestown make innumerable references to the war, to the role of the Soviet Union in beating Nazi Germany, and to the genocide and concentration camps which he saw replaying themselves in America. Q 953, recorded in May 1974, is just one of these: the American people were still in shock as they came to the realization of what happened in the Shoah. Socialism was viewed in a more positive manner than today. All of these factors contributed to the climate of daily life and counseling in Jonestown.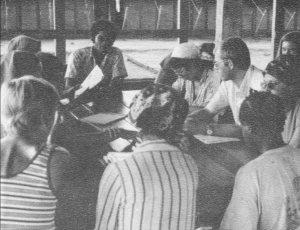 The vast majority of counseling sessions involved normal issues that would not seem unusual in daily life outside Jonestown. Examples would be Edith Roller not getting along with cottage roommates, Alfreda March being disruptive and not respecting authority, Dr. Laurence Schacht taking plates of food from the dining hall to his office, or Willie Grady not repairing the children's swings. Other more general issues included stolen and borrowed clothing, disagreements between community members, requests to change job assignments, negative or nasty attitudes, cursing, uncleanliness, and similar complaints (Counseling Group Notes from October 1978). Jones himself did not escape unnoticed, as Edith Roller wrote in April 1976: "Jim. We are aware of some situations which need counseling. We have been too busy but your time will come if you've done something to be ashamed of."
However, closer review of the counseling notes and the Roller Journals reveal aberrations that became increasingly apparent. These may be seen in how tightly controlled the daily lives of residents were in Jonestown from cottage and job assignments to relationships. Some of the practices which seemed antithetical to a normal counseling environment included the high level of control counseling had and its use to modify behavior for reasons of control; the lack of tolerance of criticism of Jonestown's leaders – including Jim and Marceline – and of Temple policies; the referral of cases deemed serious enough to warrant Jones's attention; the absolute level of control he wielded in making final decisions about behavior and punishment; and the use of community members –including relatives – as informants which created fear, particularly of conversation and actions which did not support Jonestown policy. Deborah Layton discusses this final point in her book, Seductive Poison (1998), and her account is reflected in both the counseling notes and tapes made in Jonestown. Counseling was used to control and modify behavior through punishment, which at times included public humiliation, sexual, and physical abuse in group meetings and catharsis sessions. In California there was physical abuse in the form of boxing sessions, which at that time were considered part of catharsis counseling.
A change appears to have occurred in counseling during the move from the U.S. to Guyana. Counseling in California appears to have been primarily of personal issues and the need for individual guidance among Temple members. As Kohl says in her Communal Studies interview (2012), she liked that she was able to help others as a counselor. This view was shared by Don Beck in his interview (2013).
In Jonestown, however, counseling seems to have taken on a political focus. With the arrival of Jim Jones in the summer of 1977, life in the commune began to place greater emphasis on its unique blend of socialist ideals, and the counseling reflected this change. In addition, counselors described more time spent resolving disputes between Temple members instead of considering personal individual issues. This may have resulted from a change of environment in which residents were now living and working together in a planned communal setting with limited resources and space. Finally, there seemed to be more tension among members with difficulties being referred more frequently for group review and the arbitration of Jim Jones. There was no other recourse available for problem-solving in the Jonestown community.
Conclusion
This article concentrated on the practical focus and experiential writings of counselors in Jonestown. While information on counseling in the Jonestown school is limited, the teachers in the community school were considered as highly skilled in giving child guidance and remediation. Similar to the education system, counseling had a community basis which favored practical application. A change occurred in the way counseling was applied from an emphasis on personal issues in California to the more political socialist focus of Jonestown. The encroaching authoritarianism which occurred in Jonestown as evidenced in the counseling records and personal narratives restricted discussion, along with the ability to dissent and to make constructive change.
The unfortunate events which unfolded at Jonestown did not have to occur. Counseling was already in place, and if given the freedom to do their job, counselors could have made a difference. Jonestown had many talented individuals who had the desire to promote social change. As Don Beck told Kohl in his 2013 interview, while reflecting on his experience as a counselor:
I think Peoples Temple was worth it, because it gave me a lot of insights. I learned how to work with people in Peoples Temple. I became a counselor, found myself giving advice. I mean, I don't know, maybe it's easier to give advice than take it, but listening to people and problems, I thought was good. We need to do more of that with each other.
A Note on Sources
Several resources on this site were considered in reviewing the practical application of counseling with the residents of Jonestown, including the counseling notes from July 29 to August 3, 1978 and from October 7, 1978, which discuss planning and organizing the counseling groups. The Edith Roller Journals from 1975 to 1978 reveal substantial discussion of the counseling services from the viewpoint of a Jonestown resident. This helped to reduce bias of counselor notes written by the counselors. The Kohl interview of Don Beck (2013) and her own interview by the Communal Studies Society (2012) were reviewed. Deborah Layton's book Seductive Poison (1998) and Tim Reiterman's interview of Joyce Cable Shaw-Houston (1980) provide an alternative view. Several transcripts of tape recordings from Peoples Temple and Jonestown were analyzed, as well as various articles which touched upon the subject of counseling.
References
Eichel, Steve. (2016). "Counseling former cultists: The brief intermittent developmental therapy (BIDT) approach." International Journal of Cultic Studies. Vol. 7, 1-14.
Beck, D. (2008). IV. Education, Housing, and Population. Alternative Considerations of Jonestown & Peoples Temple (hereafter Alternative Considerations).
Counseling Groups, Guidelines & Special Counseling Notes (7 October 1978). From Beck, Alternative Considerations.
Counseling Notes (July & August 1978). From Beck, Alternative Considerations.
The Edith Roller Journals, Alternative Considerations.
The Edith Roller Journals, April 1976, Alternative Considerations.
Kohl, Laura Johnston. (October 2012). "Peoples Temple and Synanon-Modern Communities: The Role of Women."Communal Studies Association. Republished in Alternative Considerations.
Kohl, Laura Johnston. (23 July 2013). Oral history interview: Don Beck. Alternative Considerations.
Layton, Deborah. (1998). Seductive Poison: A Jonestown Survivor's Story of Life and Death in the Peoples Temple. New York: Anchor.
"Peoples Temple Gets Official Status." (19 June 1978). Guyana Chronicle. Accessed 30 November 2017.
Q191 Transcript. Alternative Considerations.
Reiterman, Tim. (1982). Interview with Joyce Cable Shaw-Houston (Dominique Z. Delphine). Published in, Raven: The untold story of Jim Jones and his people. New York: E. P. Dutton, Inc. Republished in Alternative Considerations.
Originally posted on July 3rd, 2021.
Last modified on October 11th, 2021.