Books on Peoples Temple and Jonestown by year of publication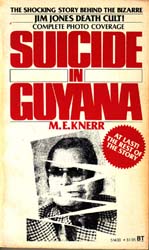 The list below is of all published books about Jonestown and Peoples Temple. Originally compiled by Denice Stephenson of the California Historical Society in 2006, it is now updated by the editors of this site. The books are listed according to the date of publication.
1978
Kilduff, Marshall. The Suicide Cult: The Inside Story of the Peoples Temple Sect and the Massacre in Guyana. New York: Bantam Books, 1978.

Knerr, Michael E. Suicide in Guyana. New York: Belmont Tower Books, 1978.

Krause, Charles A. Guyana Massacre: The Eyewitness Account. New York: Berkley, 1978.

Maguire, John. Hold Hands and Die: The Incredibly True Story of the Peoples Temple and the Reverend Jim Jones. New York: Dale Books, 1978.
1979
U.S. 96th Congress, First Session. Leo J. Ryan, Late a Representative from California. Washington D.C.: U.S. Government Printing Office, 1979.

Dem, Marc. Le Demon de Guyana. Paris: H. Veyrier, 1979.

Hirschman, Jack. The Jonestown Arcane. San Francisco: Poetry for the People, 1979. Reprinted in La Jolla, CA: Writing Series, 1991.

Lewis, Gordon K. Gather with the Saints at the River: The Jonestown Guyana Holocaust 1978. Rio Piedras, PR: Institute of Caribbean Studies, 1979.

Mills, Jeannie. Six Years with God: Life Inside Reverend Jim Jones's Peoples Temple. New York: A & W Publishers, 1979.

Nichols, Norma. Potpourri with a Taste of Cult. [Georgetown, Guyana in 1979 or 1980].

Nugent, John Peer. White Night. New York: Rawson, Wade Publishers, 1979.

Kerns, Phil. Peoples Temple, Peoples Tomb. Plainfield, NJ: Logos International, 1979.

Rose, Stephen C. Jesus and Jim Jones. New York: Pilgrim Press, 1979.

Santos, Manoel Hygino dos. Sangue en Jonestown: Uma Tragedia na Guyana. Belo Horizonte: Edicoes Jupiter, 1979.

Thielmann, Bonnie with Dean Merrill. The Broken God. Elgin, IL: David C. Cook, 1979.

White, Mel. Deceived. Old Tappan, NJ: Spire Books, 1979.
1980
Ahlberg, Sture. Folkets Tempel: Fallet Jim Jones. Stockholm: Gummesson, 1980.

Klineman, George. The Cult that Died: The Tragedy of Jim Jones and the Peoples Temple. New York: Putnam, 1980.

Lane, Mark. The Strongest Poison. New York: Hawthorn Books, 1980. Reissued by The Lane Group LLC, 2014.
Review by Matthew Thomas Farrell.
1981
Dieckmann, Ed. Beyond Jonestown: 'Sensitivity Training' and the Cult of Mind Control. Torrance: Noontide Press, 1981.

Feinsod, Ethan. Awake in a Nightmare: Jonestown the Only Eyewitness Account.New York: W.W. Norton and Co., 1981.

Naipaul, Shiva. Black and White. New York: Simon and Schuster, 1981. Published later as Journey to Nowhere: A New World Tragedy. New York: Penguin, 1982.

Reston, James. Our Father Who Art in Hell. New York: Times Books, 1981.

Wooden, Kenneth. The Children of Jonestown. New York: McGraw-Hill, 1981.

Yee, Min S. In My Father's House: The Story of the Layton Family and the Reverend Jim Jones. New York: Holt, Reinhart, and Winston, 1981.
1982
Levi, Ken, ed. Violence and Religious Commitment: Implications of Jim Jones' People's Temple Movement. University Park: Penn State Press, 1982

Reiterman, Tim with John Jacobs. Raven: The Untold Story of the Rev. Jim Jones and His People. New York: Dutton, 1982. Reissued as paperback by TarcherPerigee Press (New York: 2008).
1983
Judith Weightman, Making Sense of the Jonestown Suicides: A Sociological History of Peoples Temple. Lewiston, NY: Edwin Mellen Press, 1983.
1984
Jackson, George D. Cuname, Curare and Cool Aid: The Politics that Spawned and Nurtured Jonestown. New York: G.D. Jackson Associate, 1984.
1985
Moore, Rebecca. A Sympathetic History of Jonestown: The Moore Family Involvement in the Peoples Temple. Lewiston, NY: Edwin Mellen Press, 1985.

Parker, Pat. Jonestown and Other Madness. Ithaca: Firebrand Books, 1985.
1986
Ahlberg, Sture. Messianic Movements: A Comparative Analysis of the Sabbatians, the People's Temple, and the Unification Church. Stockholm: Almquist and Wiskell International, 1986.

Moore, Rebecca. The Jonestown Letters: Correspondence of the Moore Family, 1970-1985. Lewiston, NY: Edwin Mellen Press, 1986.
1987
Alinin, Sergie Fedorovich, B. G. Antonov, A.N. Itskov. The Jonestown Carnage – A CIA Crime. Translated from Russian by N. Burova and S. Chulaki. Moscow: Progress Publishers, 1987.

Hall, John R. Gone from the Promised Land: Jonestown in American Cultural History. New Brunswick: Transaction Books, 1987.
1988
McCoy, Alan W. The Guyana Murders. San Francisco: Highland House, 1988.

Meiers, Michael. Was Jonestown a CIA Medical Experiment? A Review of the Evidence. Lewiston, NY: Edwin Mellen Press, 1988.

Moore, Rebecca. In Defense of Peoples Temple. Lewiston, NY: Edwin Mellen Press, 1988.

Smith, Jonathan Z. Imagining Religion: From Babylon to Jonestown. Chicago: University of Chicago Press, 1988.
1989
Hamilton, Sue L. The Death of a Cult Family: Jim Jones. Minneapolis: Abdo Consulting, 1989.

Moore, Rebecca and Fielding McGehee III, eds. The Need for a Second Look at Jonestown. Lewiston, NY: Edwin Mellen Press, 1989.

Moore, Rebecca and Fielding McGehee III, eds. New religious Movements, Mass Suicide, and Peoples Temple: Scholarly Perspectives on a Tragedy. Lewiston, NY: Edwin Mellen Press, 1989.
1990
Melton, J. Gordon, ed. Peoples Temple and Jim Jones: Broadening our Perspective. New York: Garland Pub, 1990.
1991
Chidester, David. Salvation and Suicide: An Interpretation of Jim Jones, the Peoples Temple and Jonestown. Bloomington: Indiana University Press, 1991.
1992
Landau, Nathan. Heavenly Deceptor. Brooklyn, NY: Sound of Music Publishing Co., 1992.

Pozzi, Enrico. Il Carisma malato: Il People's Temple e il suicidio collettive di Jonestown. Naples: Liguori, 1992.
1993
Endleman, Robert. Jonestown and the Manson Family: Race, Sexuality and Collective Madness. New York: Psyche Press, 1993.

The Jonestown Massacre: The Transcript of Reverend Jim Jones' Last Speech, Guyana 1978. Introduction by Karl Eden. UK: Temple Press, 1993.
1995
Introvigne, Massimo. Idee che uccidono. Jonestown, Waco, il Tempio Solare.Milan: Pessano MIMEP-Docete, 1995.

Thrash, Catherine (Hyacinth), as told to Marian K. Towne. The Onliest One Alive: Surviving Jonestown, Guyana. Indianapolis: Marian K. Towne, 1995.
1996
Harris, Wilson. Jonestown. Boston: Faber and Faber, 1996.

Sutherland, Fraser. Jonestown. Toronto: McClelland and Stewart Inc., 1996.
1998
Brailey, Jeffrey. The Ghosts of November: Memoirs of an Outsider who Witnessed the Carnage at Jonestown, Guyana. San Antonio: J & J Publishers, 1998.

Kahalas, Laurie Efrein. Snake Dance: Unraveling the Mysteries of Jonestown. New York: Red Robin Press, 1998.

Layton, Deborah. Seductive Poison: A Jonestown Survivor's Story of Life and Death in the Peoples Temple. New York: Anchor Books, 1998.

Maaga, Mary McCormick. Hearing the Voices of Jonestown. Syracuse: Syracuse University Press, 1998.
1999
Nesci, Domenico Arturo. The Lessons of Jonestown: An Ethnopsychoanalytic Study of Suicidal Communities. Roma: Societ a Editrice Universo, 1999.
2000
Wessinger, Catherine. How the Millennium Comes Violently: From Jonestown to Heaven's Gate. New York: Seven Bridges Press, 2000.
2002
De Angelis, Gina. Jonestown Massacre: Tragic End of a Cult. Berkeley Heights, NJ: Enslow Publishers, Inc., 2002.
2004
Moore, Rebecca and Anthony B. Pinn, Mary R. Sawyer, eds. Peoples Temple and Black Religion in America. Bloomington: Indiana University Press, 2004.
2005
Stephenson, Denice, ed. Dear People: Remembering Jonestown. San Francisco: California Historical Society Press, 2005.
2008
Wagner-Wilson, Leslie. Slavery of Faith. New York: iUniverse, 2008.
2009
Moore, Rebecca. Understanding Jonestown and Peoples Temple. Westport, Connecticut: Praeger, 2009.
2010
Johnston Kohl, Laura. Jonestown Survivor. New York: iUniverse, 2010.
2011
Bellefountaine, Michael. A Lavender Look At The Temple. New York: iUniverse, 2011.
Gillespie, Carmen. Jonestown: A Vexation. Twin Lakes, WI: Lotus Press, 2011.
O'Shea, Teri Buford. Jonestown Lullaby. New York: iUniverse, 2011.
Scheeres, Julia. A Thousand Lives. New York: Free Press, 2011.
2012
Fondakowski, Leigh. Stories From Jonestown. Minneapolis: University of Minnesota Press, 2012.
Review by Kathy (Tropp) Barbour.
2013
Conn, David. The Pleasure of Fiends: An Orthodox Story of Evil and the Meaning in the Jonestown Cultic Horror. Printed by AlphaGraphics, Roseville, CA, 2013.
2014
Roy, Ryan. Jonestown. Living Art Publications, 2014.

Savive, Will. Jonestown: "Don't Drink the Kool-Aid". Hackensack, NJ: Del-Grande Publishing Inc, 2014.
2015
Barbour, Kathryn. Who Died. Niles, OH: Katbard Publishing, 2015.

Stoen, Timothy Oliver. Marked For Death: My War With Jim Jones the Devil of Jonestown. North Charleston, South Carolina: CreativeSpace Independent Publishing Platform, 2015. [Reissued as Love Them to Death in March 2017.]
See reviews by John R. Hall and Matthew Thomas Farrell.
2016
Kwayana, Eusi. A New Look at Jonestown: Dimensions from a Guyanese Perspective. Los Angeles: CaribHouse, 2016.
See reviews by Khaleel Mohammed and Laura Johnston Kohl.
Last modified on May 23rd, 2017.